FMH Conveyors Launches New Product at ProMat 2019
---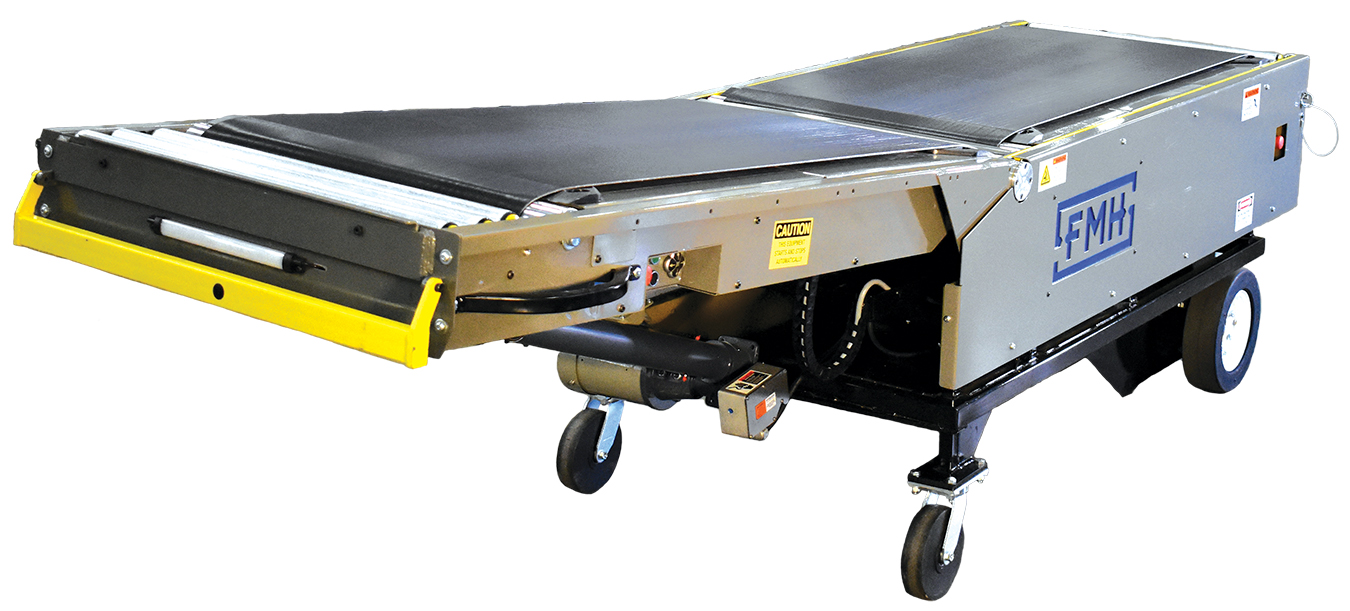 Material handling equipment manufacturer, FMH Conveyors, launches the new MBL30 at ProMat 2019, that delivers parcel handling gains in efficiency, safety and ergonomics.
Jonesboro, AR – April 8, 2019 – FMH Conveyors, a global leader in material handling equipment for fluid truck loading and unloading applications, is pleased to announce the launch of its newest product, the MBL30, a power-assist mobile belted loader, at the ProMat 2019 trade show in Chicago, Illinois. The MBL30 will reduce the risk of ergonomic injuries while improving operator safety and efficiencies at your loading and unloading docks. The MBL30 is on display for hands-on demonstrations for the duration of the show at the FMH Conveyors booth S-641.
FMH Conveyors knows that operator ergonomics, safety and efficiency in demanding shipping and receiving environments are top priorities for customers around the world. The MBL30 is a heavy-duty power-assist conveying unit for fluid loading and unloading that efficiently pulls and pushes hundreds of pounds of power conveyors in receiving and shipping operations. The MBL30 seamlessly integrates with powered flexible conveyor systems and its articulating belted snout puts the work surface where it's needed – at the operator's ergonomic POWER ZONE – alleviating common repetitive stress injuries, like muscle strains or pulls. The 30" wide belt on both the snout and main body of this unit features a tough high-grip surface that improves surface tension to reduce package slip – resulting in significant reduction of parcel damage and loss during loading and unloading operations – and providing operators increased reliability during demanding usage.
Because safety and ergonomics are top-of-mind for all dock operations, operators have access to multiple emergency stop buttons, strategically located for immediate access from multiple angles. The MBL30 also incorporates pop-out rollers at both ends of the unit that will disengage from the body of the unit to protect against draw-in and crush hazards. Operator safety is further enhanced with a bumper bar at the end of the snout that when engaged, will stop and reverse the unit.
Operator productivity and efficiency are increased when the MBL30 is used in demanding environments that experience mid-to-high parcel volumes across multiple dock deployments. Distribution Centers will benefit significantly from incorporating this new power assist conveyor into their existing dock-door solutions. Parcel handling facilities, fulfillment centers, 3PLs, and retail/big box operations who harness the MBL30 should also expect to see significant improvements in door turn efficiencies, increase of operator ergonomic benefits, and overall decrease in parcel damage/loss. According to FMH Conveyors Vice President of Sales, Peter Rice, "The MBL30 delivers ergonomic, safety and efficiency gains by improving harsh work environments, reducing repetitive musculoskeletal injuries, and increasing operator efficiencies when handling fluid loaded and unloaded parcels."
About FMH Conveyors
FMH Conveyors, headquartered in Jonesboro, AR, designs and manufactures products for truck loading and unloading applications. The NestaFlex® and BestFlex® brands lead the market in flexible gravity and power conveyors, while MaxxReach®, BestReach®, and BestConnect® are the premier brands in telescopic and rigid conveyor systems. Known worldwide for their durability and reliability, FMH Conveyors' products are engineered to support the material handling industry maximize productivity and increase efficiency. FMH Conveyors is a Duravant Company. For more information, visit www.fmhconveyors.com.
About Duravant
Headquartered in Downers Grove, IL, Duravant is a global engineered equipment company with manufacturing, sales and service facilities throughout North America, Europe and Asia. Through their portfolio of operating companies, Duravant delivers trusted end-to-end process solutions for customers and partners through engineering and integration expertise, project management and operational excellence. With worldwide sales distribution and service networks, they provide immediate and lifetime aftermarket support to all the markets they serve in the food processing, packaging and material handling sectors. Duravant's market-leading brands are synonymous with innovation, durability and reliability. For more information, visit www.duravant.com.
---