FMH Conveyors Introduces LITESORT Automated Sortation System
---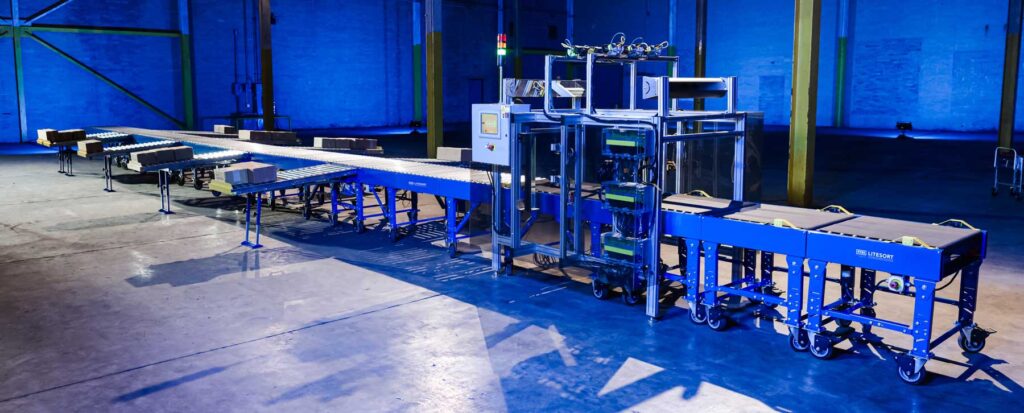 FMH Conveyors, a global leader in conveying solutions for fluid truck loading and unloading applications, is excited to announce the launch of LITESORT, an automated sortation system designed to increase efficiency in a variety of applications.
Efficiency in fulfillment facilities is more important than ever, as online purchasing pushes to ever-increasing highs and supply chain reliability remains paramount. The sorting process in a facility can be one of the most time- and labor-intensive steps, frequently subject to costly errors and inefficiencies.
The FMH LITESORT solves these problems, providing a modular, easy-to-set-up light automated sorting solution with an integrated scanning tunnel and customizable, foldable divert wings for faster loading and unloading, reduced labor, and more.




An expansion of the BestConnect product, LITESORT adds a new dimension to FMH's product offering.
"LITESORT gave our team an exciting opportunity to expand into simple systems and increase our skillset beyond what we have been doing for the last ten to twenty years," said Raman Joshi, President of FMH Conveyors.
The FMH team utilized smart control cards to communicate between multiple zones, and a scan tunnel to determine the appropriate divert destinations for each carton.
"Like our BestConnect product, we wanted to design something that was modular and reconfigurable so it could be used across a variety of applications," Chris Glenn, Director of Engineering, said on the new product launch.
Each component of the LITESORT system was designed to be modular. The scan tunnel, divert wings, and conveyor sections are all modular and can be configured specifically to meet customers' needs.
The scan tunnel can be configured with a simple top side camera, or multiple cameras can be included to scan up to five sides. Divert wings come in multiple widths to accommodate various package sizes and are foldable to reduce permanent space requirements. The all-electric bi-directional popup diverts transfer packages to gravity wings or to other FMH conveyors. The integrated casters allow for rapid deployment and easy relocation.
The system also incorporates an intuitive HMI to ensure that all system diagnostics are readily available. The interface makes it simple to identify where any potential problems in the system may be, and to quickly fix them.
Customer needs are shifting as many companies are facing many external factors including labor shortages and increased e-commerce sales. "Our customers are having to rethink their operations to solve a unique problem. In many cases, we are seeing a shift from manual sortation processes to a need for automated processes to meet deadlines and increase efficiency. LITESORT can be part of this solution," expressed Peter Rice, VP of Sales.
---