FMH Conveyors Exhibits at MODEX 2018
---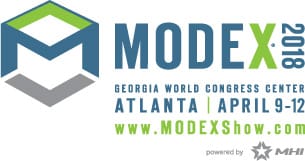 Global leader of material handling equipment, FMH Conveyors, exhibits broad portfolio of conveyors at bi-annual MODEX show.
Jonesboro, AR – April 2, 2018 – FMH Conveyors, a global leader of material handling equipment for fluid truck loading and unloading applications, is exhibiting conveyor equipment in several booths at the bi-annual MODEX show, held this year in Atlanta, Georgia. From April 9 -12, 2018, a broad sampling of FMH Conveyors' equipment for the material handling industry will be operational and on display at the Georgia World Congress Center.
In the Fulfillment & Delivery Solutions area, attendees will find powered and modular conveyors (BestFlex® / BestConnect®) at the FMH Conveyors booth: B-4355. These conveyors are ideal for businesses focused on order fulfillment, order picking and packaging, 3PLs, warehousing, distribution or transportation.
The FMH Conveyors telescopic conveyor (MaxxReach®) can be found in the new Transportation & Logistics Solutions area, at the FMH Conveyors booth: C-1545. The rapid growth of e-commerce and digital logistics processes is driving businesses to discover solutions like the MaxxReach to meet the ever-increasing demand of efficient parcel handling.
Within the Manufacturing & Assembly Solutions area, visitors will find the gravity conveyor (NestaFlex®) series in our partner booth, Precision Automation, located in B-2374. These conveyors increase efficiency and improve safety in manufacturing and assembly operations.
MODEX 2018 is one of the largest global manufacturing, distribution, and supply chain expos in North America. MODEX offers opportunities to connect with over 900 leading supply chain providers, network with industry peers from over 100 countries around the world and attend education session and keynotes – for free. Interested in attending? Visit www.MODEXshow.com to register for free online.
FMH Conveyors has a long history of delivering solutions for fluid truck loading and unloading applications with trusted brand products. "We are excited to continue our partnership with MHI through our participation in MODEX 2018," said Peter Rice, Vice President of Sales. "They are an industry association that promotes the evolution of the material handling and logistics industries through events like this. Every show brings decision makers and solutions providers together under one roof and FMH Conveyors is looking forward to hosting Visitors to show how FMH Conveyors equipment will futureproof their business."
About FMH Conveyors
FMH Conveyors, headquartered in Jonesboro, AR, designs and manufactures products for truck loading and unloading applications. The NestaFlex® and BestFlex® brands lead the market in flexible gravity and power conveyors, while MaxxReach®, BestReach®, and BestConnect® are the premier brands in telescopic and rigid conveyor systems. Known worldwide for their durability and reliability, FMH Conveyors' products are engineered to support the material handling industry maximize productivity and increase efficiency. FMH Conveyors is a Duravant Company. For more information, visit www.fmhconveyors.com.
About Duravant
Headquartered in Downers Grove, IL, Duravant is a global engineered equipment company with manufacturing, sales and service facilities throughout North America, Europe and Asia. Through their portfolio of operating companies, Duravant delivers trusted end-to-end process solutions for customers and partners through engineering and integration expertise, project management and operational excellence. With worldwide sales distribution and service networks, they provide immediate and lifetime aftermarket support to all the markets they serve in the food processing, packaging and material handling sectors. Duravant's market-leading brands are synonymous with innovation, durability and reliability. For more information, visit www.duravant.com.
---