FMH Conveyors Launches New Reconfigurable Conveyor System That Easily And Quickly Adapts To Growing Warehouse Environments
---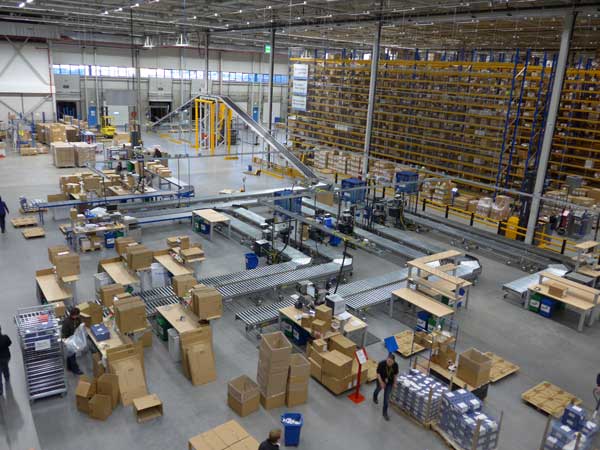 FMH Conveyors, a global manufacturer of flexible, rigid and telescopic conveyors to the material handling industry, has launched a new quick-connect reconfigurable conveyor system, BestConnect. This new product is an innovative system engineered to instantly assemble, link, disassemble and rearrange conveyor lines to make loading, unloading and sortation processes faster and more efficient. BestConnect is the most versatile conveying system available that is easily configured and re-configured to suit customers' current and future warehouse management requirements.
"FMH Conveyors developed this system to provide growing customers with a more cost-effective solution to improve the efficiency of their fluid loading and unloading processes," says Kurt Huelsman, Sr. Vice President & General Manager of FMH Conveyors. "Many distribution centers are engaged in both e-commerce fulfillment directly to customers as well as store replenishment. There's a growing need for speed and efficiency for these DCs to optimize multiple operations while minimizing setup times and space requirements of conveying equipment."
BestConnect also provides automation at a lower cost entry point with the flexibility to reconfigure loading areas for changing product dimensions and volumes. "This concept serves customers who want simpler systems without large hardware investments," says Huelsman.
FMH Conveyor's BestConnect units are available in two standard widths, 24" and 30", and have straight sections that can be ordered in 5, 7.5, and 10-foot lengths. The BestConnect line also includes 90 degree tapered roller curves and 30 & 45 degree merges. The entire system locks together solidly with similar characteristics of a bolted rigid conveyor, but offers much more flexibility with its ability to move on casters. All conveyor sections operate on 110V electrical current and are married together with easy-latching connections that reduce complexity and minimize on-site engineering activities. This allows warehouse activities to be back up and running quickly and efficiently.
BestConnect rigid reconfigurable conveyors can easily be combined with any NestaFlex or BestFlex products for complete and versatile system solutions.   Automated flow controls deliver added efficiencies including improved ergonomics, reduced labor costs, and improved service life.
About FMH Conveyors
FMH Conveyors, headquartered in Suwanee, GA, designs and manufactures products and services for truck loading and unloading applications. The NestaFlex and BestFlex brands lead the market in flexible gravity and powered conveyors, while MaxxReach and BestReach are the premier brands in telescopic and rigid belted conveyor systems. Known worldwide for their durability and reliability, FMH Conveyor products are engineered to support material handling applications for distribution centers, e-commerce, parcel post, retail stores, and a variety of manufacturers to help maximize productivity and increase efficiency. FMH Conveyors is a Duravant Company. For more information, visit www.fmhconveyors.com.
About Duravant
Headquartered in Downers Grove, IL, Duravant is a global engineered equipment company with an over 100-year operating history. Through their portfolio of operating companies, Duravant delivers trusted end-to-end process solutions for customers and partners through engineering and integration expertise, project management and operational excellence. With worldwide sales distribution and service networks they provide immediate and lifetime aftermarket support to all the markets they serve in the food processing, packaging and material handling sectors. Duravant's market-leading brands are synonymous with innovation, durability and reliability. Visit www.duravant.com.
---