FMH Conveyors Donates To Local Humane Society
---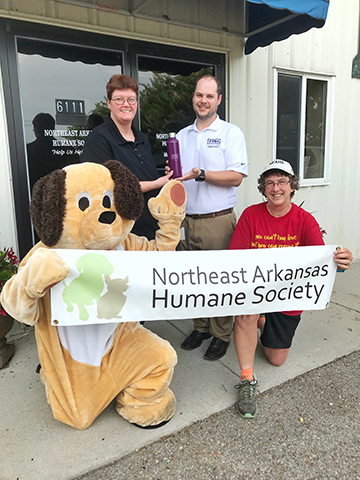 Local material handling equipment manufacturer, FMH Conveyors, donates pet equipment & food to the Northeast Arkansas Humane Society in support of their ongoing rescue efforts within the Jonesboro community.
Jonesboro, AR – September 5, 2018 – FMH Conveyors, a global leader in material handling equipment for fluid truck loading and unloading applications, is committed to "Doing Good" in our community through donations to local non-profit partners. In late June 2018, FMH held an internal Employee donation drive to collect pet food, equipment, and other related items for animal rescue. FMH Conveyors promoted this donation drive on their Facebook page to encourage local participation and engagement from our community. All visitors to the FMH Conveyors Facebook page were eligible to win a FMH Conveyors water bottle, which was awarded to a random winner from those that participated in liking, sharing and tagging other people on the original post. Local resident Mary Rich was the random drawing winner of the water bottle, which was presented in person at the NEAHS on July 17, 2018 by Matthew May, FMH Conveyors. Lisa Trevathan and Chance the Rescue Dog, Northeast Arkansas Humane Society, were also on hand to thank Mary for her participation and support!
In total, FMH Conveyors collected over 90 items that were 100% provided from FMH employees. Matthew May, FMH Conveyors Human Resource Administrator, presented these donated items to Lisa Trevathan and the Northeast Arkansas Humane Society in early July. These items will help make a difference in the lives of pet owners and animals who are served by the NEAHS.
The NEAHS is a 501c non-profit animal shelter and is funded entirely through donations, fundraising events, membership dues, and adoption fees. Their dedicated volunteer base and the ongoing generosity from local residents, businesses and other partners allows them to provide services such as low cost spay/neuter services, lost & found services, care and shelter of homeless or distressed animals, pet adoptions, humane education and other community outreach events. Donations, like this one from FMH Conveyors, will help offset the overhead costs of the day-to-day operations by allowing the NEAHS to focus on meeting the critical needs of some of the most disadvantaged creatures in our community.
FMH Conveyors has pledged to build lasting relationships by working closely with our community partners, who are committed to improving the lives of residents in and around the Jonesboro area, through charitable events and outreach programs. Their parent company, DURAVANT, created the "Doing Good" program in 2015 to drive this initiative across all operating companies and to fully empower employees to make a difference. "We recognize the importance of corporate and social responsibility within our community," said Katina Johnson, Marketing & Communications Manager for FMH Conveyors. "By coordinating with community leaders, our Doing Good program encourages employees to come together and give back to our community. We can measure our success as a business not only by our annual revenue, but also by the difference we have made in our community. It's rewarding to have worked with the Northeast Arkansas Humane Society on this donation drive."
About FMH Conveyors
FMH Conveyors, headquartered in Jonesboro, AR, designs and manufactures products for truck loading and unloading applications. The NestaFlex® and BestFlex® brands lead the market in flexible gravity and power conveyors, while MaxxReach®, BestReach®, and BestConnect® are the premier brands in telescopic and rigid conveyor systems. Known worldwide for their durability and reliability, FMH Conveyors' products are engineered to support the material handling industry maximize productivity and increase efficiency. FMH Conveyors is a Duravant Company.
About Duravant
Headquartered in Downers Grove, IL, Duravant is a global engineered equipment company with manufacturing, sales and service facilities throughout North America, Europe and Asia. Through their portfolio of operating companies, Duravant delivers trusted end-to-end process solutions for customers and partners through engineering and integration expertise, project management and operational excellence. With worldwide sales distribution and service networks, they provide immediate and lifetime aftermarket support to all the markets they serve in the food processing, packaging and material handling sectors. Duravant's market-leading brands are synonymous with innovation, durability and reliability. For more information, visit www.duravant.com.
---