FMH Conveyors Donates to Backpack Programs
---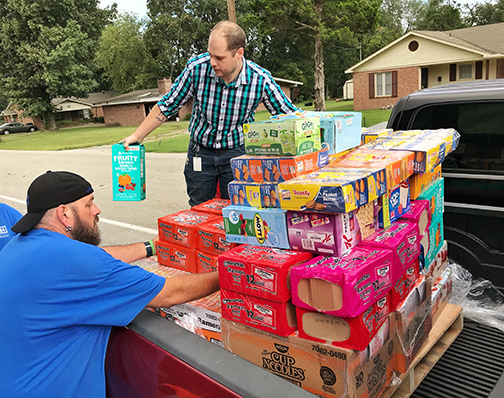 Local material handling equipment manufacturer, FMH Conveyors, donates shelf stable food items to several area schools in support of their ongoing efforts to address food insecurity.
Jonesboro, AR – September 6, 2018 – FMH Conveyors, a global leader in material handling equipment for fluid truck loading and unloading applications, is committed to "Doing Good" in our community through donations to local non-profit partners. During the month of August 2018, FMH held an internal Employee donation drive to collect shelf stable food items for local elementary and intermediate school backpack programs.
During the month of August, FMH employees donated over 12,000 items that were estimated at more than $4,000 total market value. Matthew May, FMH Conveyors Human Resource Administrator, coordinated the internal FMH collection drive and worked closely with local advocates and volunteers to ensure a successful event. FMH Conveyors personally delivered the donations to both schools during the first week in September 2018. Assisting in the delivery were representatives from the FMH department who won the internal contest; Lupe Russell, Terry Maness, and Jimmy Phelps, as well as Katina Johnson, Marketing & Communications Manager.
Two local school systems were chosen as recipients for this food drive: the MicroSociety Elementary Magnet school in Jonesboro, and the M.D. Williams Intermediate school in Pocahontas. The M.D. Williams school will distribute their goods throughout their school district to benefit all students in the community.
According to a recent USDA report on Household Food Security in the United States in 2017, Arkansas families experience some of the highest incidence rates of food insecurity on average. Food insecurity is understood as having access at all times to enough food for an active, healthy life for all household members. When there isn't enough food for everyone, eating patterns can be disrupted, and families are forced to choose between the necessities of life for themselves and their children. Approximately 58% of food-insecure households across the United States participated in one or more of the three main Federal food and nutrition assistance programs (SNAP, WIC, or National School Lunch Program). [Alisha Coleman-Jensen, Matthew P. Rabbitt, Christian A. Gregory, and Anita Singh. 2018. Household Food Security in the United States in 2017, ERR-256, U.S. Department of Agriculture, Economic Research Service]
FMH Conveyors has pledged to build lasting relationships by working closely with our community partners, who are committed to improving the lives of residents in and around the Jonesboro area, through charitable events and outreach programs. Their parent company, DURAVANT, created the "Doing Good" program in 2015 to drive this initiative across all operating companies and to fully empower employees to make a difference.
About FMH Conveyors
FMH Conveyors, headquartered in Jonesboro, AR, designs and manufactures products for truck loading and unloading applications. The NestaFlex® and BestFlex® brands lead the market in flexible gravity and power conveyors, while MaxxReach®, BestReach®, and BestConnect® are the premier brands in telescopic and rigid conveyor systems. Known worldwide for their durability and reliability, FMH Conveyors' products are engineered to support the material handling industry
maximize productivity and increase efficiency. FMH Conveyors is a Duravant Company. For more information, visit www.fmhconveyors.com.
About DURAVANT
Headquartered in Downers Grove, IL, DURAVANT is a global engineered equipment company with manufacturing, sales and service facilities throughout North America, Europe and Asia. Through their portfolio of operating companies, DURAVANT delivers trusted end-to-end process solutions for customers and partners through engineering and integration expertise, project management and operational excellence. With worldwide sales distribution and service networks, they provide immediate and lifetime aftermarket support to all the markets they serve in the food processing, packaging and material handling sectors. DURAVANT's market-leading brands are synonymous with innovation, durability and reliability. For more information, visit www.duravant.com.
---