Flexible Material Handling Delivers Solutions for Dockless Receiving Retail Stores
---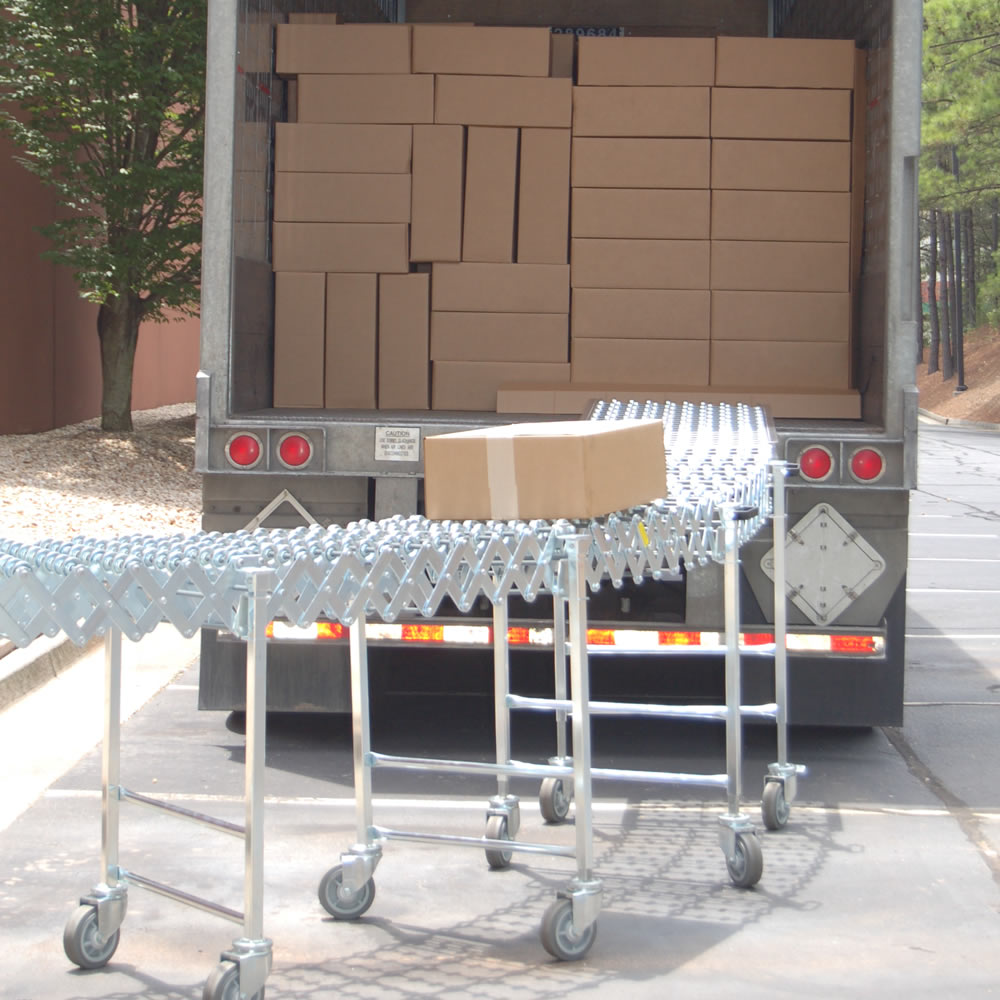 Flexible Material Handling, a nationwide provider of flexible and extendable conveyors, announces a new solution for retail stores that do not have a dock to easily move floor loaded product from the trailer into their storerooms. Using a combination of ten foot rigid conveyors designed with unique adjustable legs and a NestaFlex® flexible conveyor with a swing stick extension, customers are able to unload large carrier trailers more effectively and efficiently.
"The problem for smaller retail stores without a dock is finding a good solution to unload a trailer that stands four feet off the ground," said Kurt Huelsman, Flexible Material Handling's GM. "Previously, employees would roll a conveyor out to the bed of the trailer and unload it using a two-step process. First, by walking back and forth inside of the trailer carrying large boxes to the open end of the trailer, and then transferring the boxes onto the conveyor to move them into the receiving area. Now with our dockless receiving system, we've designed a way to move more product with less effort in a shorter amount of time which is a win-win for everybody."
The dockless receiving system involves a swing stick extension that bridges the gap between the flexible conveyor and the bed of the trailer. Depending on the length of the trailer, two or three 10' extensions are attached to the swing stick of the flexible conveyor. This allows an employee to stand in the bed of the trailer and pick packages to load onto the dockless receiving system. The packages are then gently pushed down the dockless system out of the trailer, onto the flexible conveyor and into the store's receiving room.
Flexible Material Handling has implemented this solution at multiple retail chain stores with great success. Retailers are experiencing a reduction in the time it takes to receive product into the store along with more efficiency and safety in their processes. In one case, a retailer was able to reduce unloading 165 packages from 2 ½ hours to 45 minutes. In another situation, a customer saved millions of dollars in shrink wrap and pallets by implementing this system in conjunction with a trailer floor loading program.
Flexible Material Handling, headquartered in Suwanee, GA, provides many products and services in the material handling sector. Their NestaFlex®, MaxxReach® and Best® brands produce flexible gravity and powered conveyors along with telescopic and rigid belted conveyors which are designed to support a variety of material handling applications for distribution centers, retail stores, and manufacturers to help maximize productivity and increase efficiency.
About Flexible Material Handling
Flexible Material Handling designs and manufactures products and services for truck
loading and unloading applications. The NestaFlex and MaxxReach brands lead
the market in flexible gravity and powered conveyors and telescopic conveyors. Known worldwide for their durability and reliability, Flexible Material Handling products are engineered to support material handling applications for distribution centers, e-commerce, parcel post, retail stores, and a variety of manufacturers to help maximize productivity and increase efficiency. Flexible Material Handling is a Duravant Company. For more information, visit www.flexmh.com.
About Duravant
Headquartered in Downers Grove, IL, Duravant is a global engineered equipment company with an over 100-year operating history. Through their portfolio of operating companies, Duravant delivers trusted end-to-end process solutions for customers and partners through engineering and integration expertise, project management and operational excellence. With worldwide sales distribution and service networks they provide immediate and lifetime aftermarket support to all the markets they serve in the food processing, packaging and material handling sectors. Duravant's market-leading brands are synonymous with innovation, durability and reliability. Visit www.duravant.com.
---