Outbound Distribution Center
---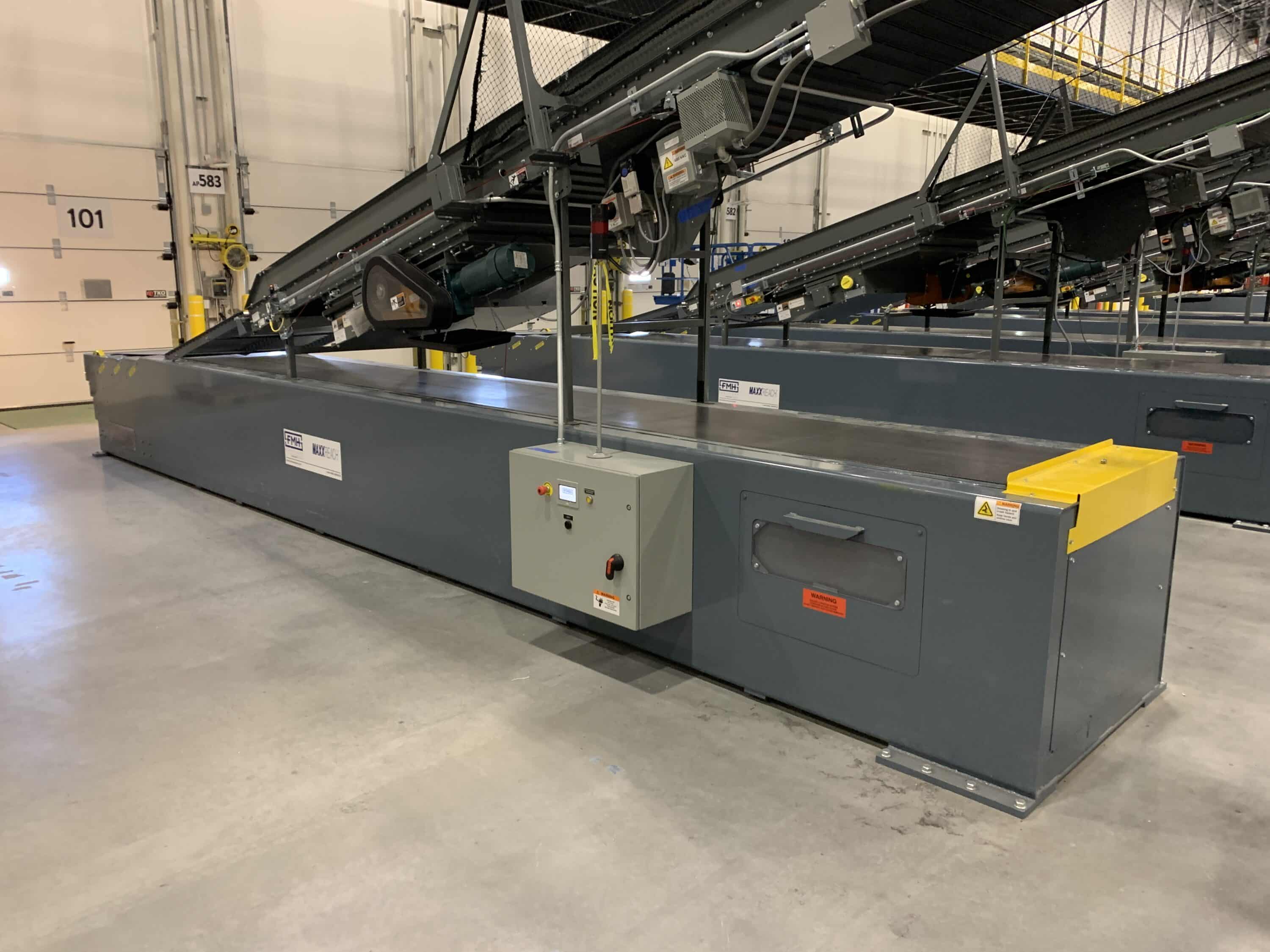 Key Solutions: MaxxReach Telescopic Belt Conveyors
The Company
A major consumer retailer and wholesaler focused on providing quality products at a low price point.
Need Recognition
FMH was approached by an integrator with very specific configurations for their end-user. Due to the specifications required, the end-user was able to provide input and FMH was able to meet their unique needs.
A brand-new outbound distribution facility needed to be equipped with a solution that would provide flexibility, improve productivity metrics, and meet expected quality and durability.
The Challenge
This new distribution center in Dallas is a major distribution hub for the end-user. Product leaving this facility can go to one of three main streams. Product can travel to a regional distribution center, directly to the back of a store for retail, or be handed off to a third-party logistics company.
Within one facility, products could range from flat-screen TVs to board games to personal care products.
With so much variety, the conveyor solution must be able to handle a variety of package sizes and be easily maneuverable in instances where palletized units must be loaded into the trailer.
The end-user placed operator comfort and efficiency at top of mind. They requested an option that would allow fewer associates to operate multiple dock doors.
The project also took into consideration ease of use for associates. The end-user wanted to easily display faults, service requirements, and other system messages.
As a retailer, the end-user experiences seasonal peaks and labor challenges. This project was tasked with accounting for these peaks while allowing for fewer users in normal operation.
The Solution
FMH and the integration partner determined that FMH MaxxReach telescopic conveyors would best solve this project's unique challenges. MaxxReach seamlessly integrates with permanent conveyor systems and is customizable for individual needs.
Twenty telescopic conveyors were needed to service this new facility.
To account for irregular package sizes, the project team calculated the distance between the dock doors and the MaxxReach units (when fully retracted).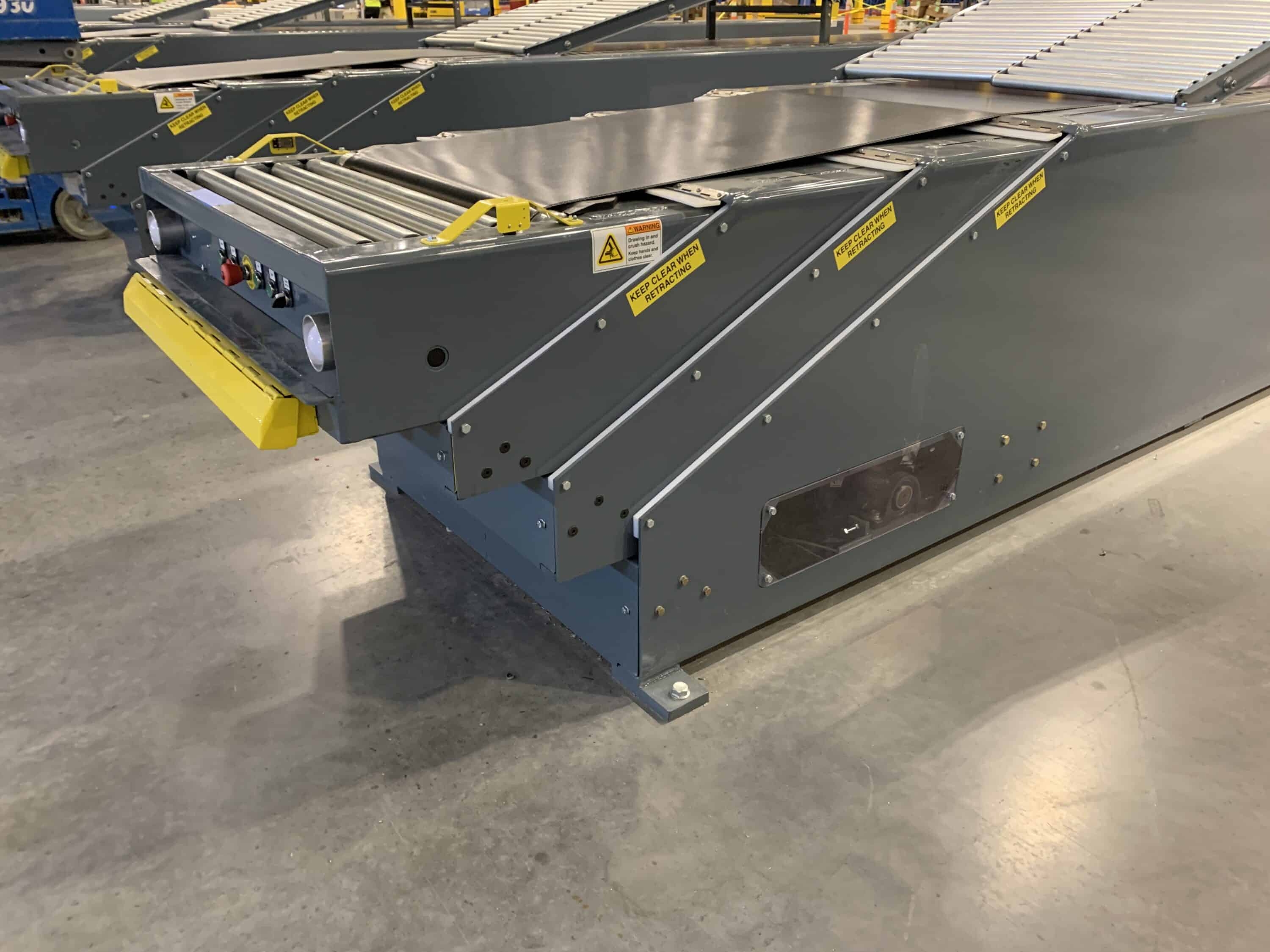 The units were installed at a distance that would allow for full extension into the trailer while still allowing forklifts to maneuver to the trailer when retracted. This allows for conveyable units to travel with larger, irregular units such as televisions or furniture.
To allow space for forklifts, the telescopic conveyors had to be offset from the dock door, slightly skewed left or right. There is a variance in trailer position to account for, as not every trailer will be backed perfectly straight.
To protect the trailer and the conveyor unit, our team implemented side detection sensors. When activated, the sensors automatically retract the conveyors to prevent damage.
FMH also worked with the integrator and end-user to ensure maximum ergonomics to increase operator comfort.
Control panels are offered as left- or right-handed units. MaxxReach units come standard with an emergency stop button on the control panel and at the operator controls along with an emergency stop bar to improve user safety. These units also come standard with LED lights to improve operator visibility and comfort.
This user requested a user-friendly human-machine interface (HMI), as an intuitive diagnostic tool. The HMI offers a touchscreen panel with visible service and fault indicators. The indicators follow a simple color key; green indicates running, blue indicates a fault or overload, and white indicates off or stopped.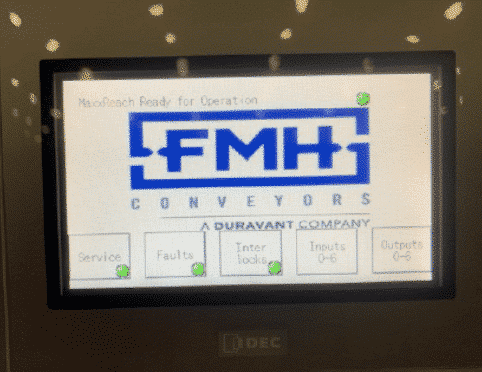 Additionally, the HMI offers easily accessible SupportPro contact information. As part of the FMH promise, SupportPro offers on-site training and lifetime service.
Since this facility is in located in a warmer climate, the end-user will be installing FMH retrofit kits, which include fan add-ons to provide airflow in the trailer. This will allow for increased comfort in extreme weather conditions.
To account for labor variability during seasonal peaks, this project implemented a box stop feature that will allow a two-person team to handle up to four dock doors.
This is possible due to the MaxxReach's ability to interface with the permanent conveyor in the facility. Once a package is sealed, it is placed on an automated downline that sorts to the correct trailer dock. The packages are then automatically loaded on the correct MaxxReach unit, where the box stop feature will allow for accumulation on the belt but stop movement before packages reach the end.
By engineering the telescopic conveyors to be available to receive packages at all times and be on demand when loading packages, the retailer requires much smaller crews.
Efficiency Gains
The most obvious gain from utilizing MaxxReach conveyors on this project is labor savings. One two-person crew can operate up to four dock doors when loading trailers.
With a traditional manual gravity system, more crew members would have been required, and the number of trucks serviced would be drastically decreased. The user would also have seen an increase in the number of man-hours required to load the same number of trucks.
Labor savings are recognized by not requiring an operator at every door all the time. The on-demand nature of the system allows for crew members to work in other areas until the MaxxReach conveyor is full and the trailer is ready to be loaded. This also eliminates the need for crews waiting on packages to come down the line.
During seasonal peaks, the retailer can add additional crews or crew members to unload boxes. By allowing for variability in the crew size, the retailer is recognizing labor savings by not having to always maintain high employment numbers.
---