NestaFlex 376 AL/FL Gravity Skate Wheel Conveyors
---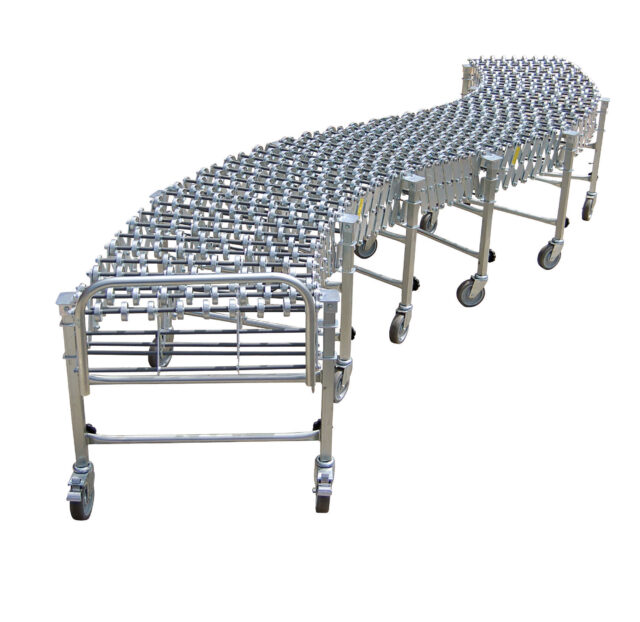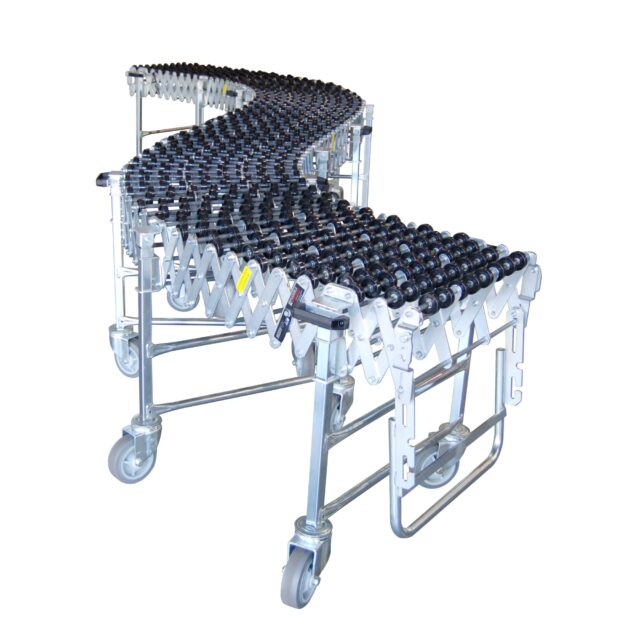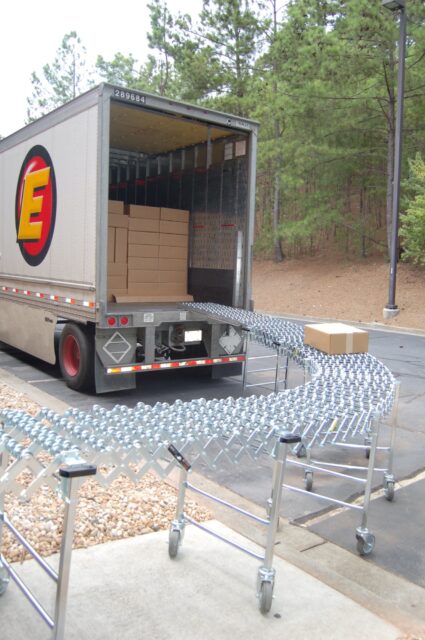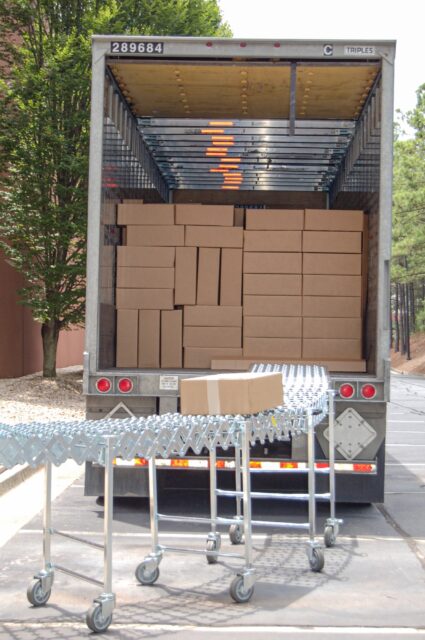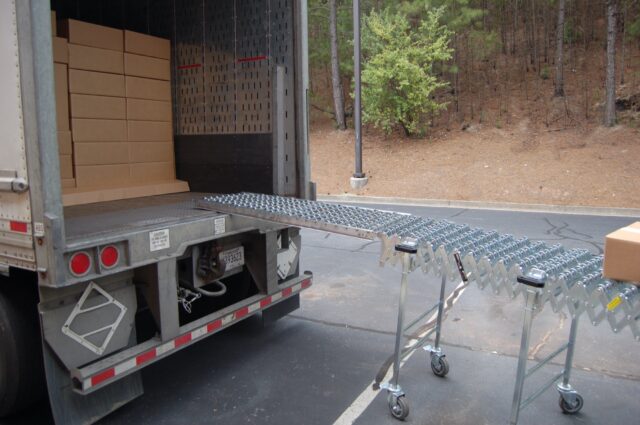 The NestaFlex® 376 AL/FL is a heavy duty, gravity conveyor that features double welded cross braces and heavy duty square tubing legs available in adjustable height legs (AL) and fixed height legs (FL). This all bolted design uses shoulder bolts, steel lock nuts and is additionally secured with industrial thread lock to help reduce maintenance. The four point leg connection gives additional strength to the conveyor to make it last longer. The NestaFlex® 376 AL/FL is designed to provide the support necessary to handle heavy packages in high volume environments.
The NestaFlex® 376 AL/FL has a proven track record in the industry and is the choice for medium to high volume shipping and receiving departments in distribution centers, retail stores, and manufacturing and assembly operations.
Features
Flexibility
NestaFlex conveyors are able to bend and twist as needed to go around obstacles. Conveyors can even curve up to 180º curves.
The flexibility of NestaFlex conveyors also allows a single conveyor to service multiple doors.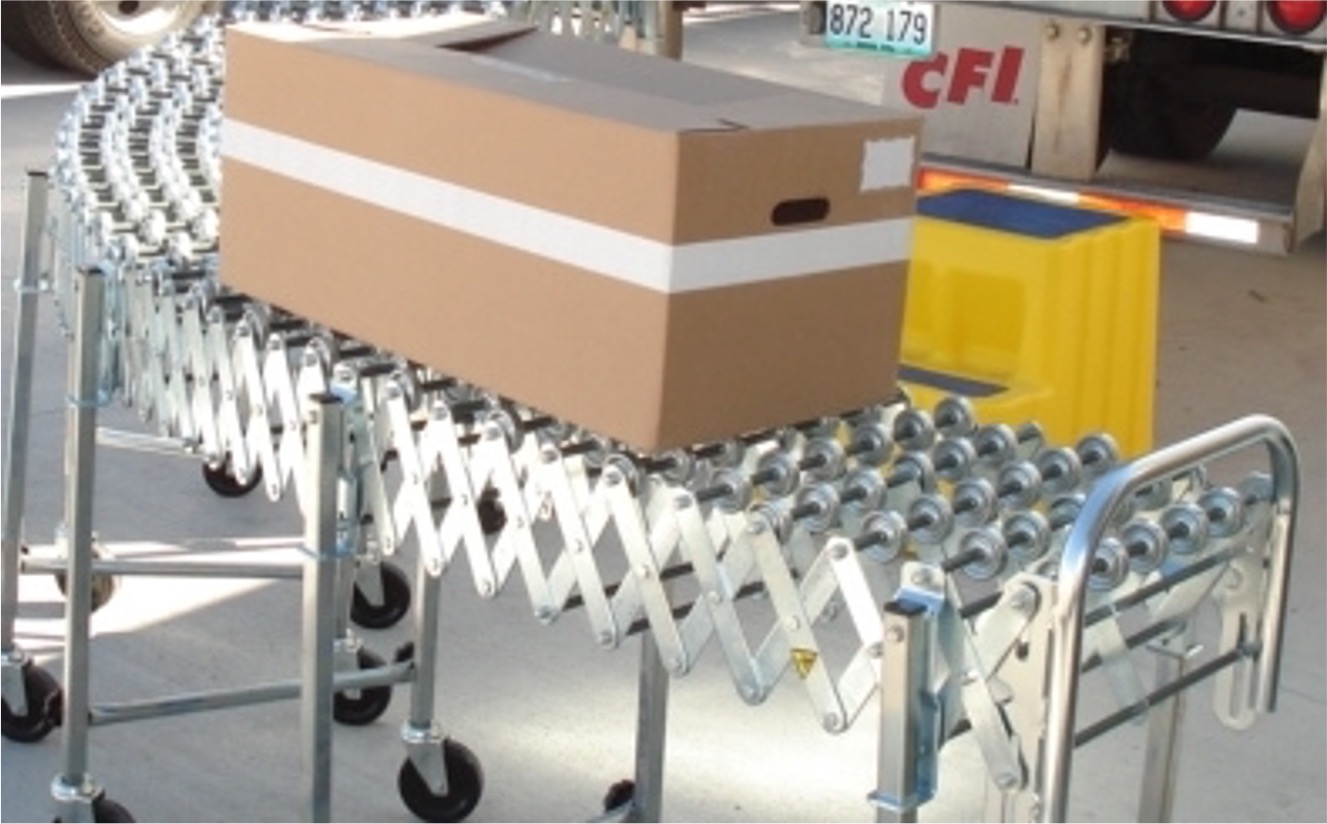 Self Tracking
Cartons will follow the twists and turns of the conveyor path without using engineered curves.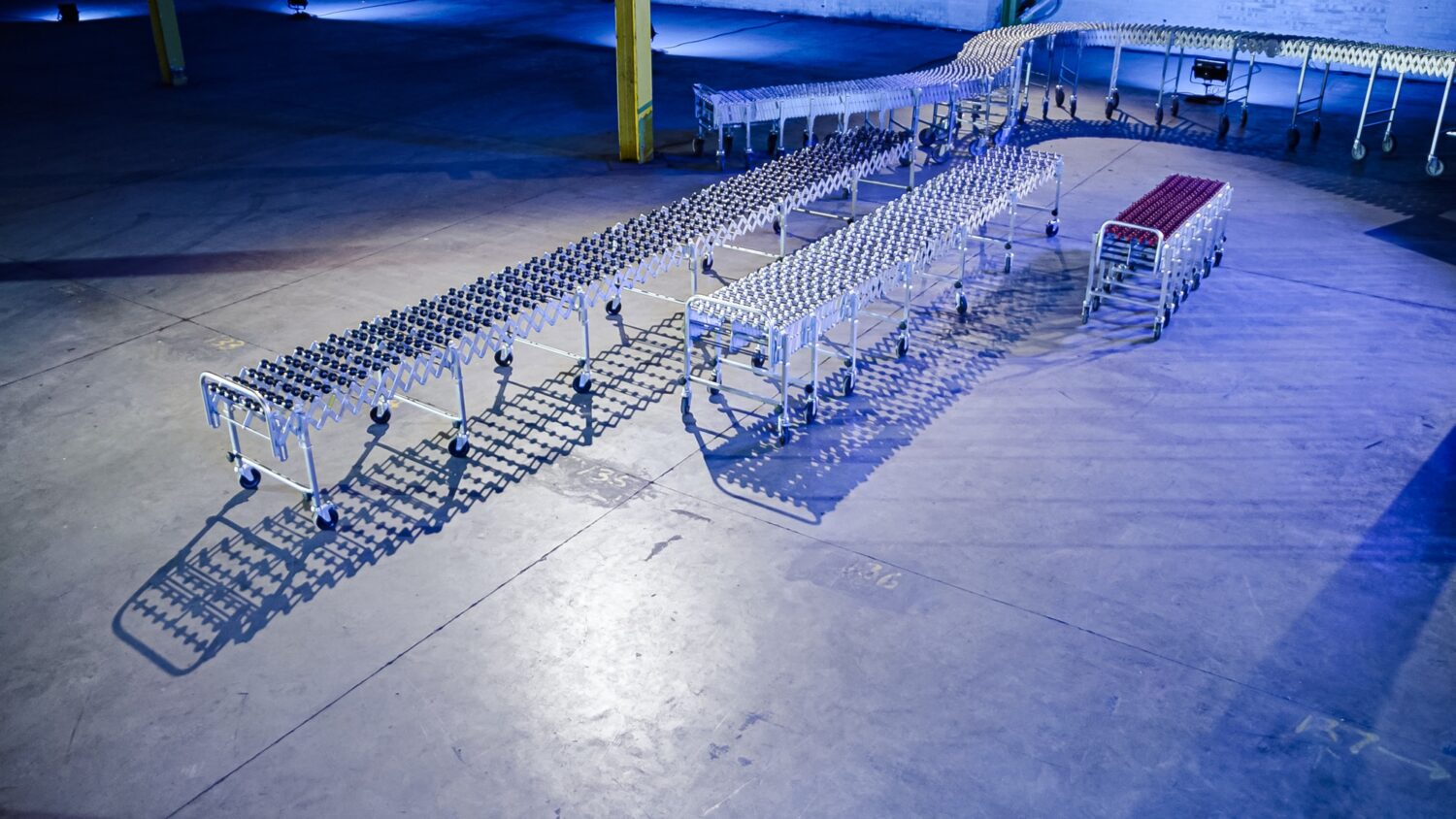 Expandability
NestaFlex conveyors are designed to expand and contract as needed to help with the loading and unloading process. Once trucks are loaded or unloaded, conveyors can be conveniently contracted and stored to save floor space.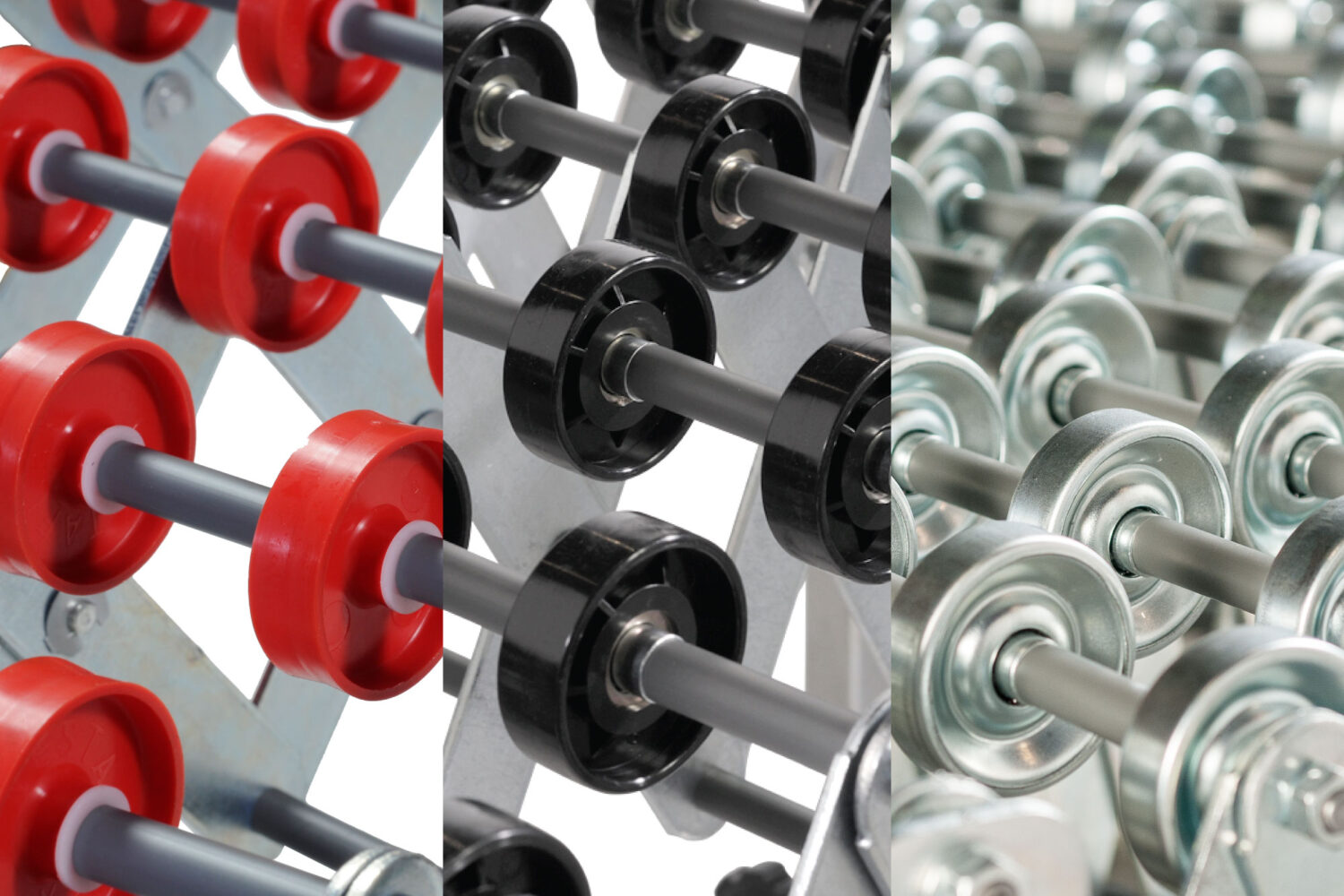 Skate Wheels
NestaFlex 376 come standard with zinc plated skate wheels with steel ball bearings. The zinc plated skate wheels provide maximum durability which make them ideal for shipping and receiving applications.
Black polymer skate wheels are also available. They increase the speed of package conveyance, making these excellent for packaging machines and light parcel applications. While the red skate wheels with nylon bushings provide the most economical option.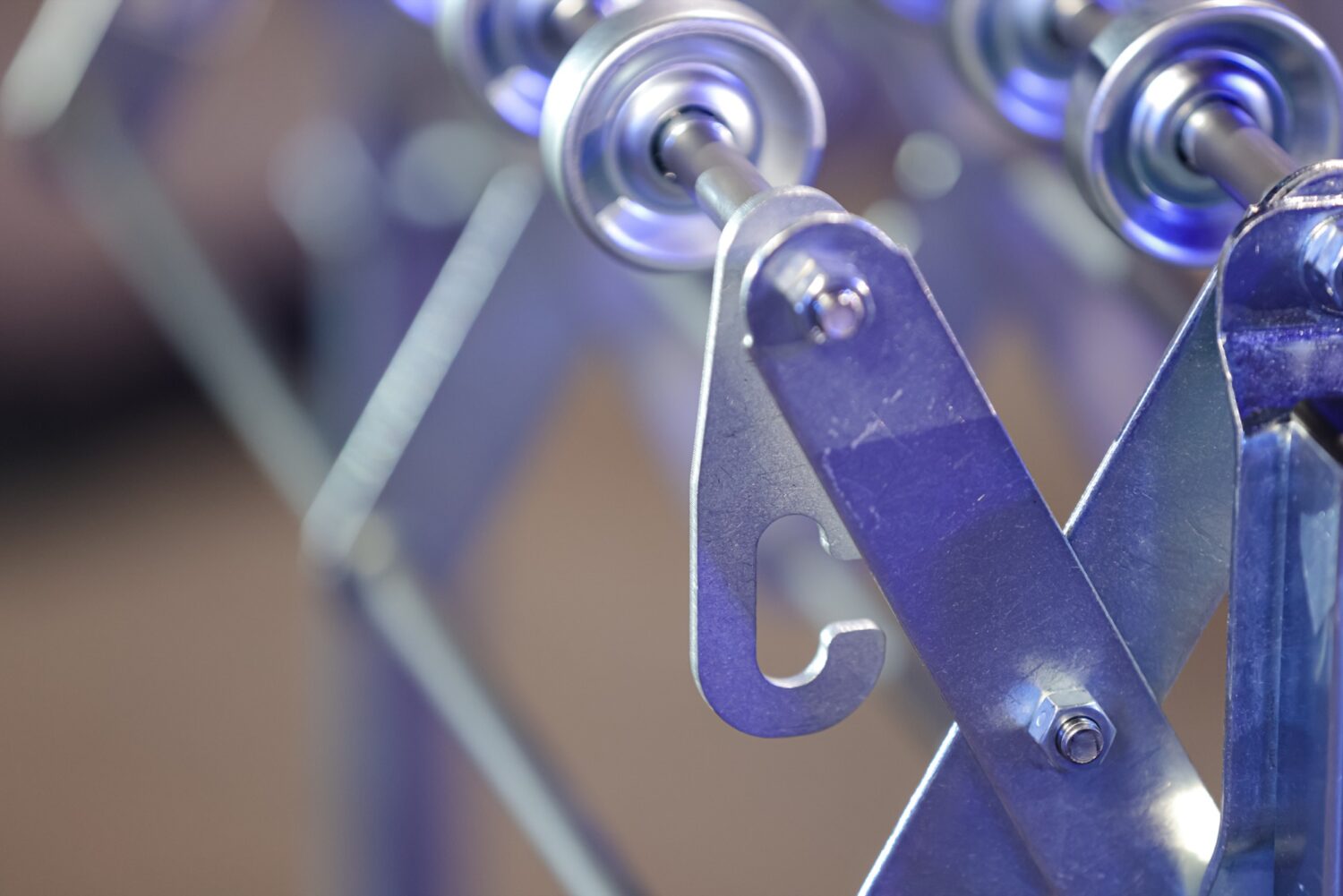 Connection Couplers
Connection couplers allow easy connection between multiple conveyor sections for continuous package flow. This allows for conveyors to be disconnected when retracting or storing.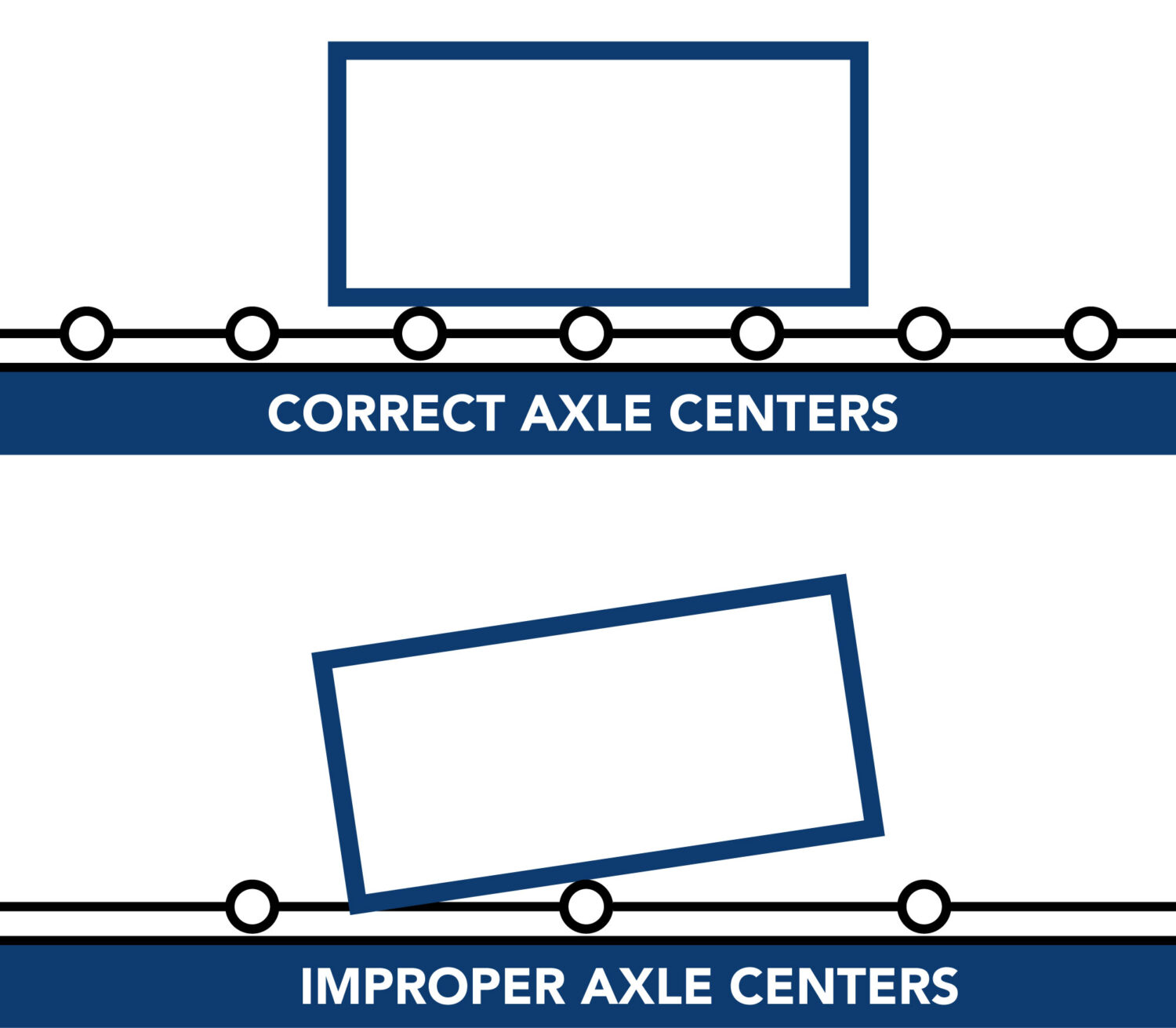 Axle Centers
Axle centers are measured from centerline to centerline of skate wheels, and ensure that materials remain securely on the conveyor while maintaining efficient flow. Proper axle centers are determined by the smallest item that will be conveyed. The industry standard is three rollers (rows of skate wheels) should be under a carton at all times.
Other Features

Heavy Duty Casters

Conveyor casters with brakes help make it easier to roll over uneven surfaces.

---

Package Stop

The retractable package stop will keep cartons from going into the floor if the product flow is faster than the operators ability to load/unload.

---

Side Handles

Ergonomically designed side handles provide a safe grabbing point for operators to open and close conveyors.

---

Leg Braces

Welded double horizontal leg braces ensure lasting durability for longer service life.

---

Heavy Duty Impact Cart

The optional heavy duty impact cart assist in extending the live of the conveyor in unloading applications.

---
Load Capacity

376 lbs / ft

Standard Skate Wheel Type

Zinc Plated

Other Skate Wheel Type/s Available

Black Polymer & Red Polymer

Standard Axle Centers

5.25 in

Other Axle Centers Available

3 & 4 in

Conveyor Widths

18 / 24 / 30 / 36 in

Conveyor Lengths

8 – 60 ft

Conveyor Heights

20 – 53 in

Standard Caster Size

5 x 1.5 in – up to 40 ft
6 x 2 in – over 40 ft

Other Caster Sizes Available

6 x 2 in / 8 x 2 in

Side Link Construction

7 gauge steel

Frame Design

All steel construction

Leg Design

Zinc plated w/ welded double horizontal leg braces

More Details
Curve Guards
Swing Stick
T-Junctions
Side Handles
Heavy Duty Impact Cart
Technical Support
Installation & Service
Preventative & Routine Maintenance
Application Support
Operator & Maintenance Training