SupportPro Tips: Adjusting Belt Tension
08/07/2021
---
FMH Curved Belt Conveyors require occasional servicing on the belt tension to ensure maximum efficiency. The belt tension must be kept to a minimum on both the external and internal radius. By design, it should be possible to manually move the belt and turn the belt guide without difficulty.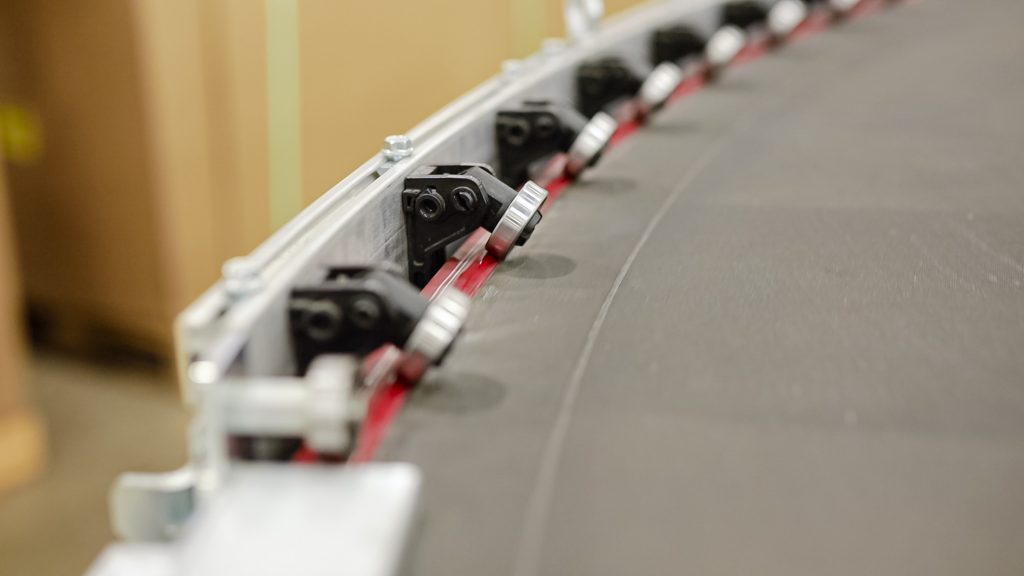 If the belt has been tensioned properly, it will lie flat against the support without forming waves or bubbles.
Before working on the unit, ensure power is disconnected. Servicing and repair work should only be done by trained staff. Service should only take place when the machine is not operating to ensure that it cannot be started or put into motion inadvertently. Before performing maintenance or repairs on the system, ensure proper Lockout/Tagout procedures are followed.  Service and repair work should only be performed by trained personnel.  Service should only take place when the machine is properly locked out to ensure it cannot be operated during planned maintenance or repair.
To begin, loosen the screws on the finger protection plate (as shown below) and push it down.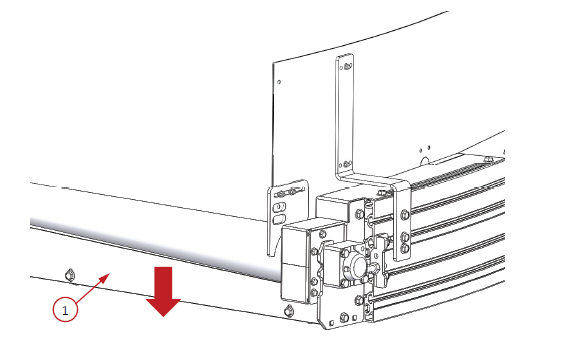 Next, loosen the locknut (2) of the clamping screw (3) on the inside and outside.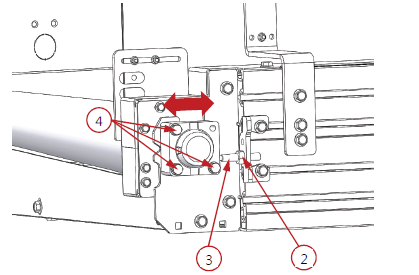 Loosen the screws (4) on the bearing unit on the inside and outside.
Use the clamping screw (3) to tension the belt as symmetrically as possible until there are no folds, and the belt is pulled evenly. Adjust the belt tension with a "test weight" (the maximum weight the curve conveyor is designed for), ensuring that the equipment can operate without any slipping between the belt and pulleys.
When doing this, it is important to ensure the belt tension is not set too high or too low. This could lead to problems when adjusting the belt path. Excessively high belt tension can also cause the pulley bearings and conveyor belt to be damaged.
Before the system is restarted, it must be ensured that all safety devices are fully fitted and functional.
To check for proper adjustment, run the belt for 10 minutes and ensure it is running smoothly and centered. Tighten the locknuts and screws again. Secure the finger protection plate again with a gap of less than 5 mm. Manually turn the belt, ensuring there are no obstructions.
Once work is complete, connect power back to the unit.
This simple maintenance procedure will provide your curved belt conveyor with a longer life and will reduce downtime on equipment.
SupportPro provides this service as part of our preventative maintenance (PM) program. To set up a PM visit with one of our factory trained service technicians, call 1-844-364-7378 or click here to contact our team.
---