How Conveyors Can Boost Your Supply Chain Performance 
31/07/2023
---
Supply chain performance is a vital sign of how well your business is meeting the needs and expectations of your customers. It includes various features of your supply chain, such as product availability, on-time delivery, inventory levels, capacity utilization, and operational efficiency. Improving supply chain performance can help you reduce costs, increase revenues, and gain a competitive advantage in your market. 
One of the ways to enhance your supply chain performance is to improve your material handling processes. Material handling is the movement, storage, and control of materials and products throughout your facility. It involves operations such as receiving, storing, packing, shipping, and transporting goods. According to sources, it is estimated that material handling can account for up to 50% of the total operating expenses within a manufacturing or distribution facility. 
Therefore, it is important to have an effective and efficient material handling system that can support your supply chain goals. This is where fluid loading and unloading conveyors come in. Conveyors are mechanical devices that transport products from one location to another within your facility. They can be used for various purposes, such as sorting, accumulating, loading, unloading, palletizing, order fulfillment, and more. 
Conveyors can offer several benefits for your supply chain performance, such as: 
Automation

. Conveyors can automate many manual tasks that are repetitive, time-consuming, and prone to human error. For example, conveyors can sort products based on their size, weight, color, or destination without requiring human intervention. This can save on labor costs, increase productivity, and reduce accidents.

 

Customer satisfaction

. Conveyors can help you deliver products to your customers faster and more accurately. By using conveyors to streamline your order fulfillment process, you can reduce lead times and increase customer satisfaction.

 

Flexibility

. Conveyors can be customized to fit your specific needs and preferences. You can choose from different types of conveyors, such as belt conveyors, roller conveyors, gravity conveyors, extendable & flexible conveyors, etc., depending on your products and the layout of your facility. You can also adjust the speed, direction, and configuration of your conveyors.

 
There are many examples of how conveyors can enhance your supply chain performance in different industries. For instance: 
In manufacturing, conveyors can be used to improve manual sortation, process and production applications, and even efficiency in 

truck loading and unloading

. High-performance conveyors streamline operations by facilitating speed, accuracy of movement, and other operations.

 

In ecommerce, conveyors can help you handle high volumes of orders from online customers. These conveyors move packages large or small by offering high load capacity, maximizing storage space and also by minimizing employee injuries.

 

In postal, conveyors ensure a consistent and accurate flow of packages, handle various package sizes, and increase process accuracy.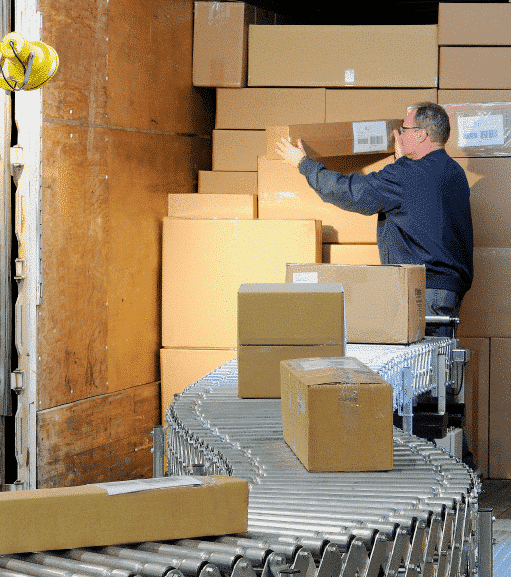 If you are looking for a reliable partner to help you design, install, and maintain your truck loading and unloading solutions, consider FMH Conveyors. FMH, a top conveyor manufacturer, can provide a variety of conveyor solutions that are tailored to your specific needs and goals. 
FMH has a team of experts who can assess your situation and recommend the best conveyor system for your facility. We also have a team of skilled technicians who can install, service, and repair your conveyor system with minimal disruption to your operations. 
To learn more about how FMH Conveyors can help you improve your supply chain performance, contact us today.  
---