FMH Featured Solutions: Curved Belt Conveyors
26/05/2021
---
Conveyor systems offer a solution for easily transporting materials throughout a facility. These systems come in many options and aid in maximizing production as goods and materials enter, leave, or move throughout a facility.
Manufacturing plants often have heavy machinery, mezzanines, and production equipment that need to be maneuvered around. FMH's curved belt conveyor is designed to help you move packages in the right direction by seamlessly adjoining to existing systems.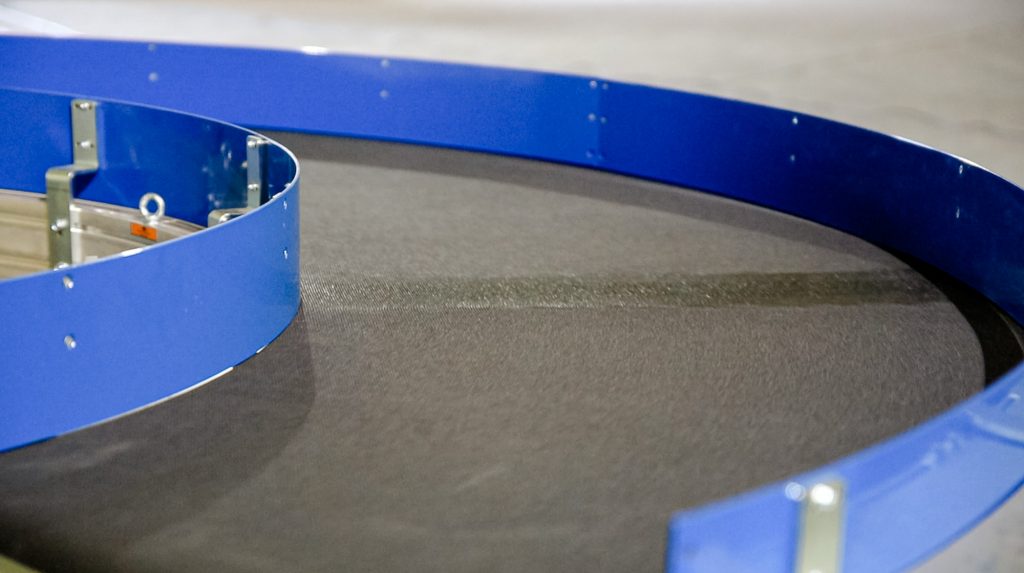 Curved Belt Conveyors
Curved belt conveyors are designed for versatility, maximizing available space, and enhancing your setup by creating project specific conveyor solutions. Our belted curves are built to transport heavy-duty loads and convey speeds of up to 550 feet per minute while shortening conveyor length and handling time. These conveyors enable loads to change directions throughout facilities at a broad range of angles — including 180-degree curves and up to full 360-degree spirals designed to fit your facility's needs.
Our curved conveyors come in a wide range of standard measurements, but we can also engineer custom configurations to ensure the perfect fit in your facility! Whatever your needs are, our team is here to help meet them.
Key Benefits
High performance guiding profile: To meet the demands of typical applications, our curved products are designed with offset joints and double seam-secured belt beading, which is five times stronger than traditional belt beading.
Exceptional durability: Our modular solutions are specifically designed for high-volume, heavy-duty applications. These low-maintenance conveyors are built for reliability in scenarios where equipment must run almost constantly, and downtime must remain at a minimum.
Quick belt changes: In scenarios where belt changes are required, the performance-focused design of our conveyors enables a speedy resolution and minimal downtime, with changes occurring in as little as 15 minutes.
Modular Design: The modular design enables fast and efficient setup and integration between your existing components. This allows users to upgrade individual components as needed, rather than replacing entire solutions!
Industry Applications
The advantages of curved belt conveyors make them a perfect fit for industries with intensive shipping and receiving requirements.
Airports tend to be the largest application for curves. However, there are also a lot of curved belt conveyors in distribution centers, ecommerce facilities, parcel, wine & spirits, and more. From luggage, parcel packages, totes, and fragile wine bottles, our conveyors help ensure that thousands of items get to the right place safely and efficiently.
Summary
The FMH Curved Belt Conveyor has been developed to be a solution for facilities in need of a modular, heavy-duty design. Our low-maintenance solution is performance-engineered and custom tailored to fit your needs and enhance your existing setup.
Click here to learn more about FMH's curved belt solutions.
---