FMH Adds Environmental Health and Safety Manager
15/10/2021
---
Chris Dawson has joined the FMH team as Environmental Health and Safety Manager!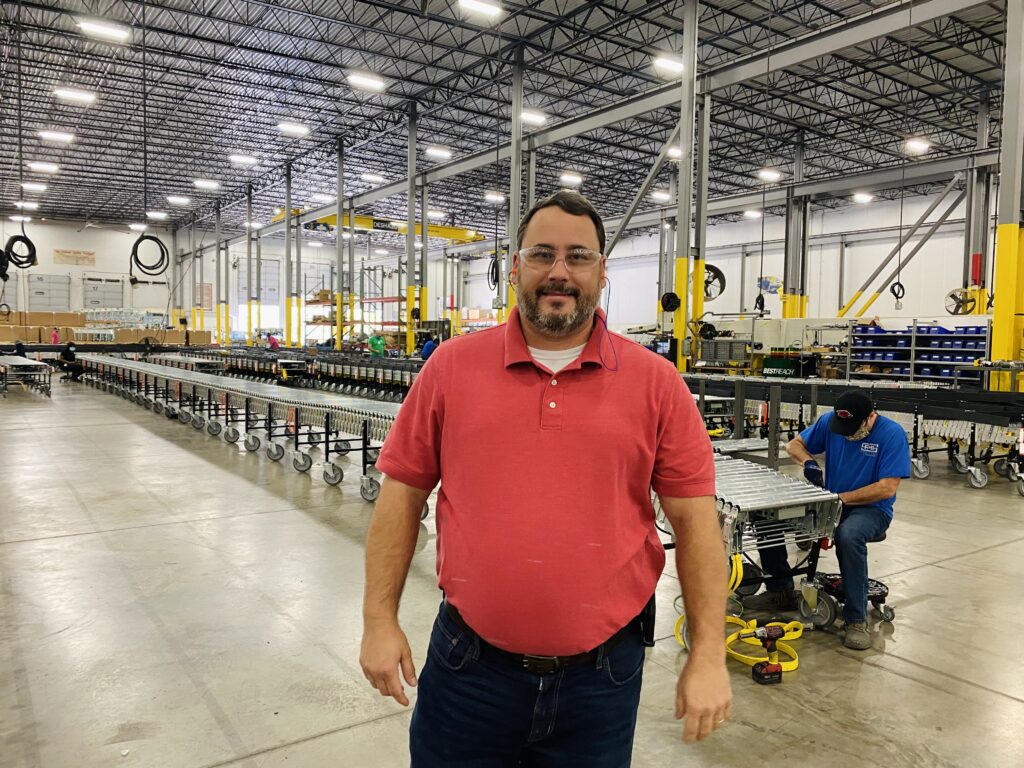 "Safety has always been a priority in our workplace," Rickey Ellis, Director of Manufacturing Operations, explains why the addition of this role is vital. "We have grown year over year since moving to this building in 2017. As we have evolved, we took this opportunity to invest in our employees and make someone available to focus solely on safety."
Growing up in Blytheville, Chris moved to Jonesboro to pursue a degree in both International Business and Management with an HR emphasis. Chris brings a wealth of knowledge from previous manufacturing experience that makes him a great fit for this role. In addition to serving as a safety coordinator for five years, Chris has 511 and OSHA 30-hour General Industry Safety and Health certifications.
He joined the FMH team as the company aligns with his interest in transportation, warehouse operation, and distribution. "There will always be a need for this product," he said, adding "manufacturing is inherently high-risk. We have to look at the possibility of severe injury happening and compare it to the probability of that happening to properly prevent incidents."
Chris described his day-to-day as a "whirlwind." He must transition from communicating with production employees, to management, all the way up to the corporate level. Though challenging, Dawson is thrilled with his experience thus far and enjoys the diversity each day offers and the opportunity to engage with all employees.
His main goals for the company include the implementation and continuation of specific safety programs. His desire is to provide an atmosphere for all employees to feel comfortable building product and help ensure they go home safely every day. Additionally, he wants all employees to feel that there is an open-door policy when it comes to addressing safety concerns.
Manufacturing is an inherently high-risk environment. Ellis elaborated on FMH's preventative measures saying, "How are we being proactive when it comes to protecting our employees in every situation - from eyes to ears to toes? It all goes back to our core values, a sense of urgency being one. This applies to our employees and customers."
FMH previously implemented a 5S + Safety lean workplace. The five pillars include sort, set in order, shine, standardize, and sustain. This system is designed to optimize spaces so work can be performed efficiently. To enhance this, one of Chris's first goals is to develop general safety training for all employees. His hope is that by developing a safety standard, incoming employees will be successful in achieving FMH's safety expectations.
To achieve this, hazard identification and near-miss training will occur for all production employees. Continued training for First Responders will be prioritized as well.
An important aspect of any safety plan is employee involvement, and FMH is addressing this in new initiatives! "We are looking forward to engaging employees in our overall safety plan by implementing a safety committee," Dawson said. The committee will allow employees to have a seat at the table and be directly involved in the safety initiatives.
"From his first day, he has driven corrective action and has been proactive in his role. Chris comes from a background of proven leadership and communication across all levels," Ellis said.
"It's all about the employees - driving engagement and providing a positive work environment. I look forward to the initiatives that we have planned and gaining insight from the rest of the team!" Dawson said of this opportunity.
Welcome to the FMH Family, Chris!
---