Channel Partner Spotlight: Cisco-Eagle
25/08/2021
---
Cisco-Eagle was founded in 1970 and is headquartered in Dallas, Texas.

The company has become known as an innovator due to their expertise and dedication to designing unique solutions for their customers. Their customers have grown accustomed to the reliability and continuity of the company and its employees.
Cisco-Eagle places a high priority on employee retention and cultivating a positive workplace environment. In 2000, Cisco-Eagle transitioned to an employee-owned company. By adding this long-term value for employees, they are able to strive for exceptional service for customers and partners.
Serving a wide range of industries has led to a diverse, nationwide portfolio. Some industries encompassed include food processing, energy, manufacturing, distribution, aviation and automotive.
At a recent trade show, Mitch Penar, FMH Regional Sales Manager for the Western U.S. was able to network with part of Cisco-Eagle's team. He discussed the relationship between the two companies following this meeting. "Cisco-Eagle has been a great partner and we look forward to further developing this relationship! FMH is constantly evolving and introducing new product lines, which are a natural fit for Cisco-Eagle's customer base."
Scott Stone, VP of Marketing, has worked for Cisco-Eagle for 30 years and has always been aware of an FMH partnership stating, "it's really a multi-generational relationship."
Cisco-Eagle has found that FMH's flexible powered and gravity conveyors fit a wide range of their customers' needs. Commonly implemented in dock-to-door operations, FMH's flexible lines are ideal for retail and distribution centers.
There have been many joint projects with FMH and Cisco-Eagle over the years. A unique opportunity for the two companies was an e-commerce distribution center for children's books.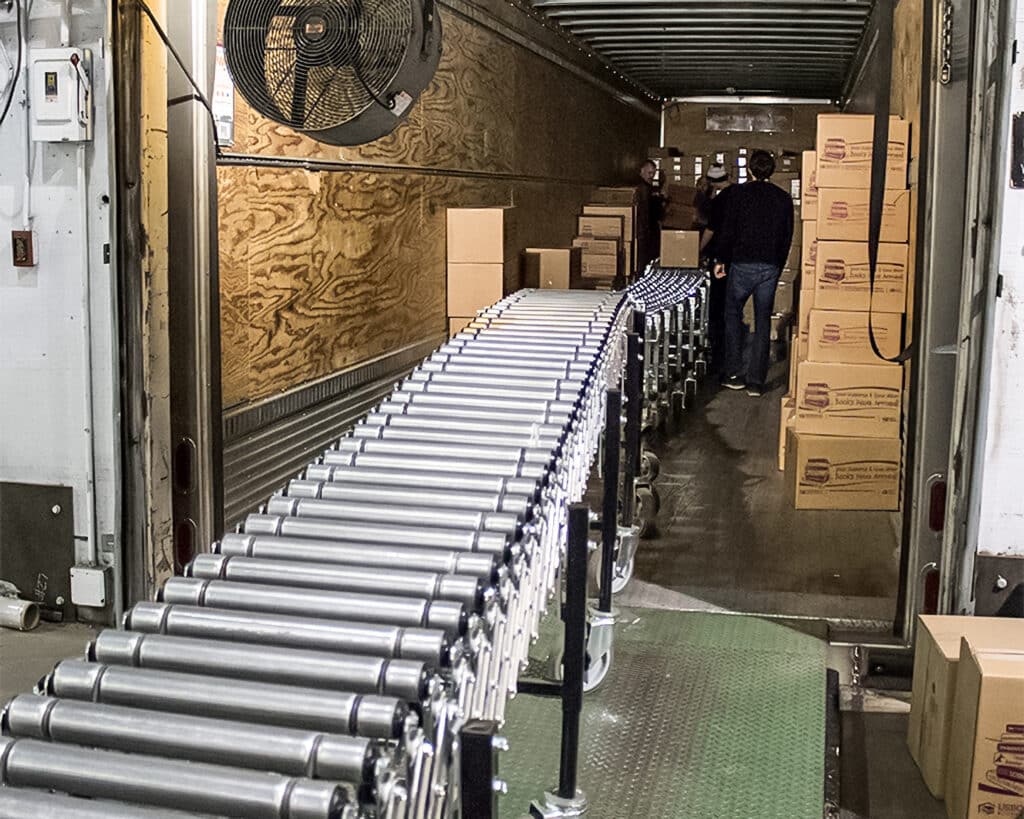 In the initial stage of this project, Cisco-Eagle utilized FMH power flexible conveyors to feed products to shipping stations then through packing, taping, and boxing. Finally, the product reached the end of line where powered conveyors were implemented in dock-to-door operations.
Another success story involved a retail distribution facility consisting of five lines. To solve the challenge of multiple lines, Cisco-Eagle configured the conveyors to run in loops from the dock doors. Once the product feeds to these loops, they can be manually sorted to the correct line.
Stone also expressed interest in exploring FMH's new LITESORT automated sortation system, where there is opportunity to help customers automate these manual processes. "FMH does a great job marketing their products and really makes our job that much easier. The quality of products and our ability to work together digitally and otherwise has made all the difference," Scott said.
In order to provide positive experiences to customers, communication is a necessity.
"There are several points of contact throughout the entire process. The marketing, accounting, and sales departments are able to coordinate to provide a seamless experience for our customers." Melodi Foster, Business Development Coordinator at Cisco-Eagle, said of the relationship between the two companies.
This is just one example of what channel partner success looks like with FMH. We enjoy working with our partners to serve many industries with custom solutions. Thank you to Cisco-Eagle for continuing to trust our team!
---