Avoiding Additional Labor Costs at the DC
---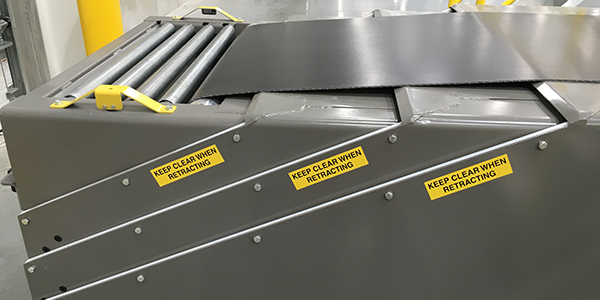 @TheDock: Avoiding Additional Labor Costs at the DC
"We've gotten a solid 25% boost to receiving productivity …
without adding any more people."
For the past several years, a major global apparel & textiles retailer had been wrestling with frustratingly low efficiencies and productivity rates at one of their Southern US distribution centers. They knew that a significant cap-ex investment was needed to correct these problems and in 2018, they partnered with a trusted conveyor systems integrator to tackle this project.
St. Cyr Inc., an FMH Conveyors PHOENIX Partner, coordinated with the retailer to develop an integrated solution for their DC that would both increase their receiving operations productivity while also improving their overall efficiencies. In early 2019, St. Cyr completed the redesign of the facility and installation of upgraded conveyor equipment. After the successful installation, the retailer reported that they saw the desired improvements immediately in both efficiency and productivity rates. This accomplishment eliminated the Plan B option of increasing labor at the facility and confirmed the partnership with FMH and their PHOENIX Partners, St. Cyr, was a resounding success.
DETERMINING THE NEED
FMH Conveyors worked closely with both the retailer and St. Cyr to evaluate their current challenges, the objectives for this upgrade and identify the right product within the proposed scope. A 3-stage MaxxReach telescopic conveyor (MR3-25/80) was recommended as the best solution, and the retailer agreed and moved forward with the project. Their decision to upgrade to a MaxxReach telescopic conveyor from an existing NESTAFLEX powered roller conveyor was based on the expectation to recognize a minimum of a 20% increase in productivity.

BETTER THAN EXPECTED
St. Cyr & FMH Conveyors collaborated on the final system design and integrated the MaxxReach telescopic conveyor into a new takeaway conveyor line designated for sorting operations. St. Cyr performed both the electric and mechanical install of the MaxxReach at the retailer's distribution site. Today, the new MaxxReach is reported as effortlessly handling the volume of packages and was a critical component of a successful material handling solution, delivering a 25% increase to productivity — eliminating the need for additional labor resources.
RECENT UPDATE: The retail end user was so pleased with the MaxxReach quality and its demonstrated performance that they worked with our FMH Sales team and St. Cyr again to identify an identical equipment solution for another of their southern US distribution centers. That installation was completed on Monday, June 17, 2019, and the expectation is for a similar (if not better) outcome to deliver improved receiving efficiencies and productivity rates.
---