FMH Featured Solutions: Flexible Powered Conveyors
21/10/2021
---
Conveyor systems offer a solution for easily transporting materials throughout a facility. These systems come in many options and aid in maximizing production as goods and materials enter, leave, or move throughout a facility.
Manufacturing plants often have heavy machinery, mezzanines, and production equipment that need to be maneuvered around. FMH's flexible powered conveyors are designed to help you move packages in the right direction and minimize the overall storage footprint.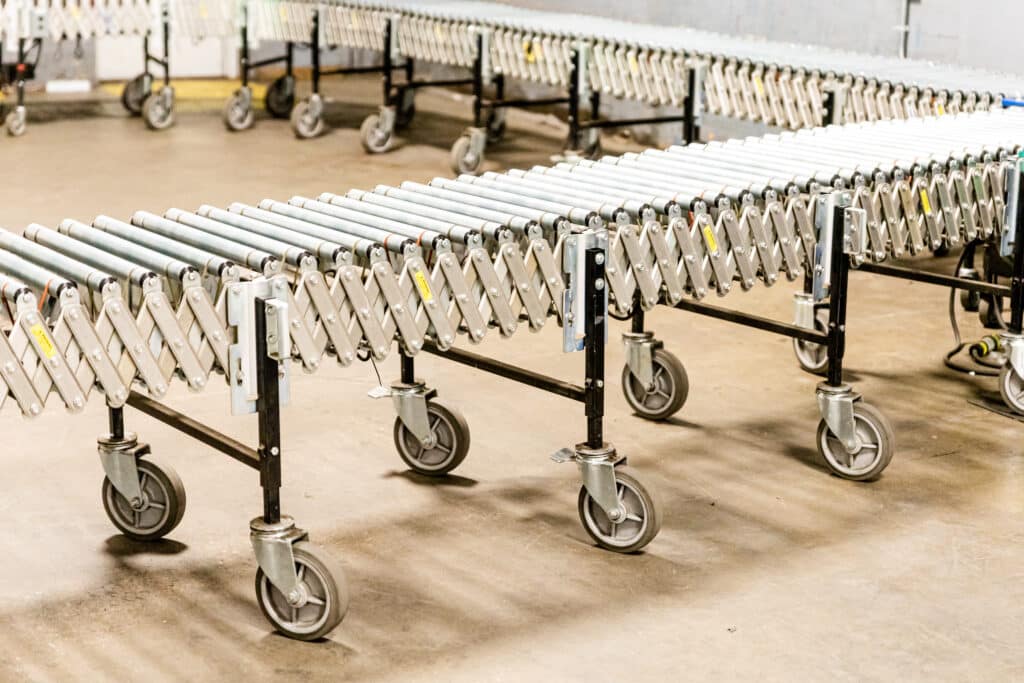 Flexible powered conveyors
Flexible powered conveyors provide maximum productivity in shipping, transportation, and packaging applications where usability and adaptability are needed. Our innovative design requires less storage space when fully retracted and the capability to service multiple docking doors.
By powering a conveyor, any package size can be moved at variable rates of speed at a capacity of 100 pounds per linear foot. Offered in a range of sizes from 18" up to 36", this product can fit many applications, whether using small or large packages.
Key Benefits
Flexibility
BestFlex is designed to expand and flex side to side to maneuver around obstacles. When not in use, BestFlex is able to contract and store conveniently to reduce the storage footprint. Conveyors come standard with adjustable leg heights to provide flexibility as application needs change. Additionally, it can be used as a standalone conveyor or in conjunction with the rest of your conveyor system.
Heavy-duty rollers
BestFlex offers two roller sizes - the 1.5 series and the 1.9 series.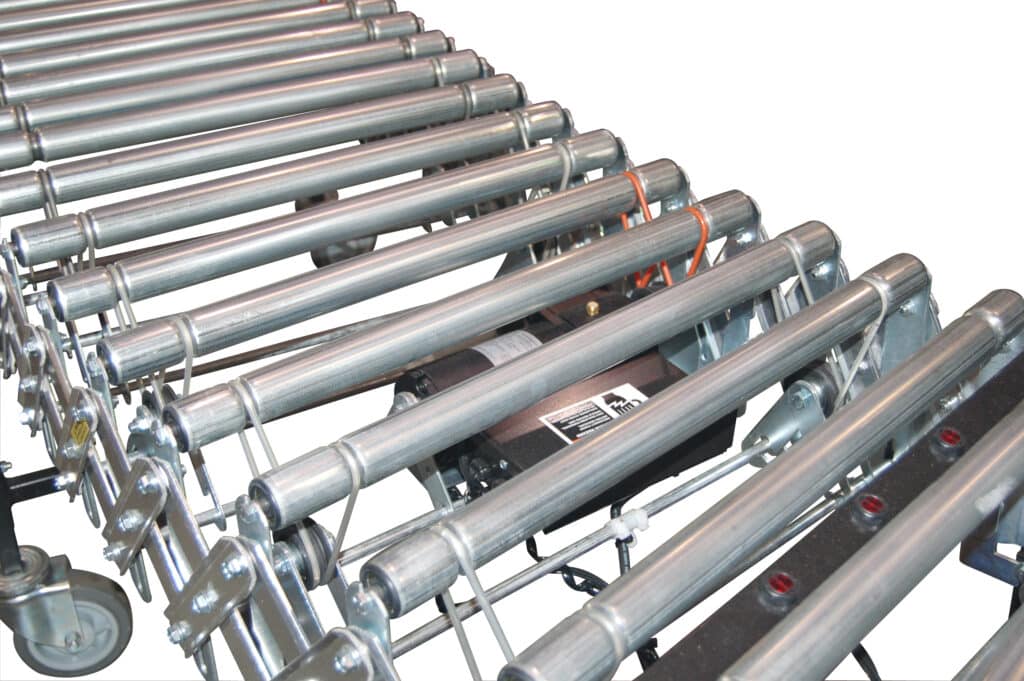 Standard with 6" casters, the 1.5 series was designed with general applications in mind. The smaller rollers allow for a more compact footprint. The 1.9 series was designed with a more robust structure. They come standard with 8" casters and are ideal for more strenuous applications. Additionally, users can choose to add an Impact Cart for rigid applications. This cart is designed to remove some of the stress that comes from high volume, high impact loading or unloading.
Product flow control
Each conveyor is equipped with multiple DC drive motors that can be used as live roller transportation or zero-pressure accumulation.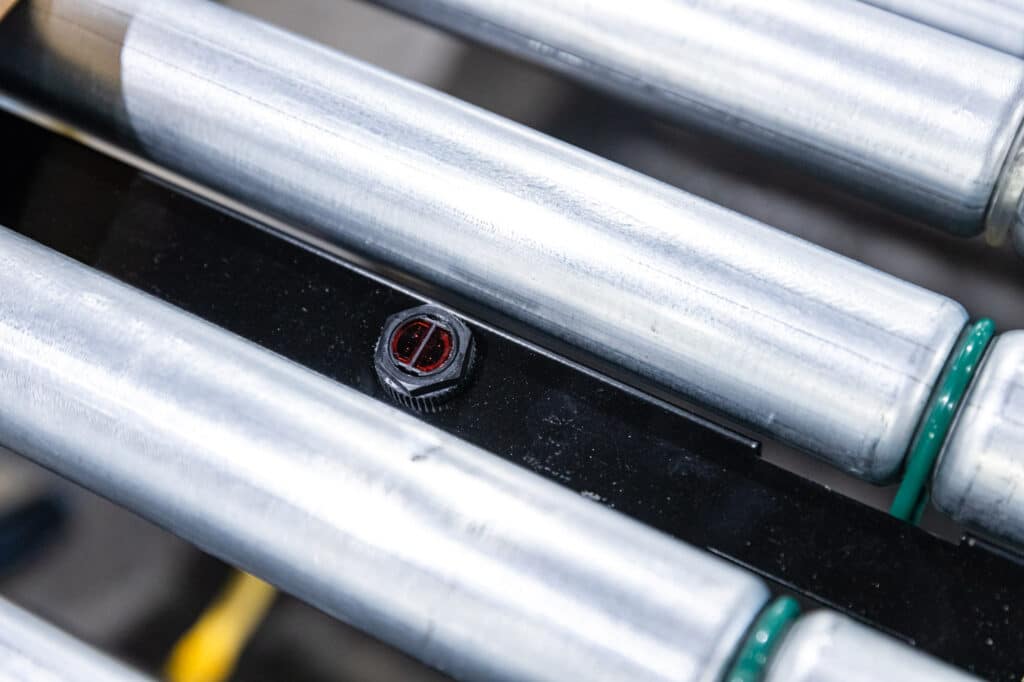 The zero-pressure accumulation package places read-between-the-roller optics at each leg set to create accumulation zones on each conveyor bed. Optional upgrades include reversing accumulation controls. Additionally, an optional package stop prevents product from going over the end of the conveyor is retractable when not in use.
Industry Applications
Since Bestflex is not a fixed conveyor, users can adjust usage as needs change. As a result, this solution has found a home in several industry applications including 3PL, e-commerce, and distribution.
Most commonly found in shipping and receiving applications, users enjoy reduced manual sortation and labor requirements. The mobile nature of this product provides an excellent bridge between stationary conveyor lines.
To better fit users' needs, FMH has developed add-ons including our PowerTrax Power Assist that takes the work out of moving conveyors in and out of trucks.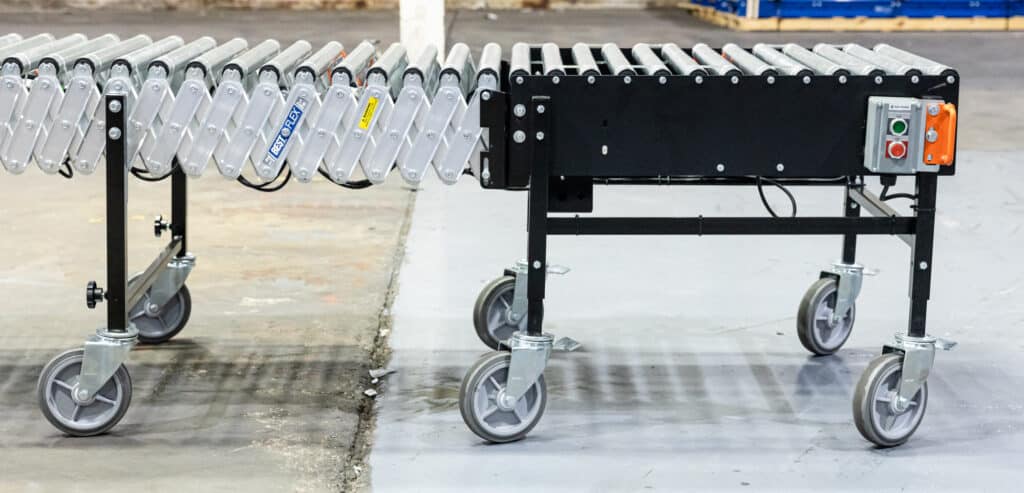 Other options include our Impact Cart, which is available as gravity or powered. This addition is designed to protect conveyors from high-volume, high impact loading or unloading.
Summary
The BestFlex family of products has been developed to be a solution for applications in need of scalability and flexibility. Our low-maintenance solution is performance-engineered and custom tailored to fit your needs and enhance your existing setup.
---