Employee Spotlight: Candace Watkins
22/04/2022
---
Meet Candace Watkins, Working Team Lead for BestConnect!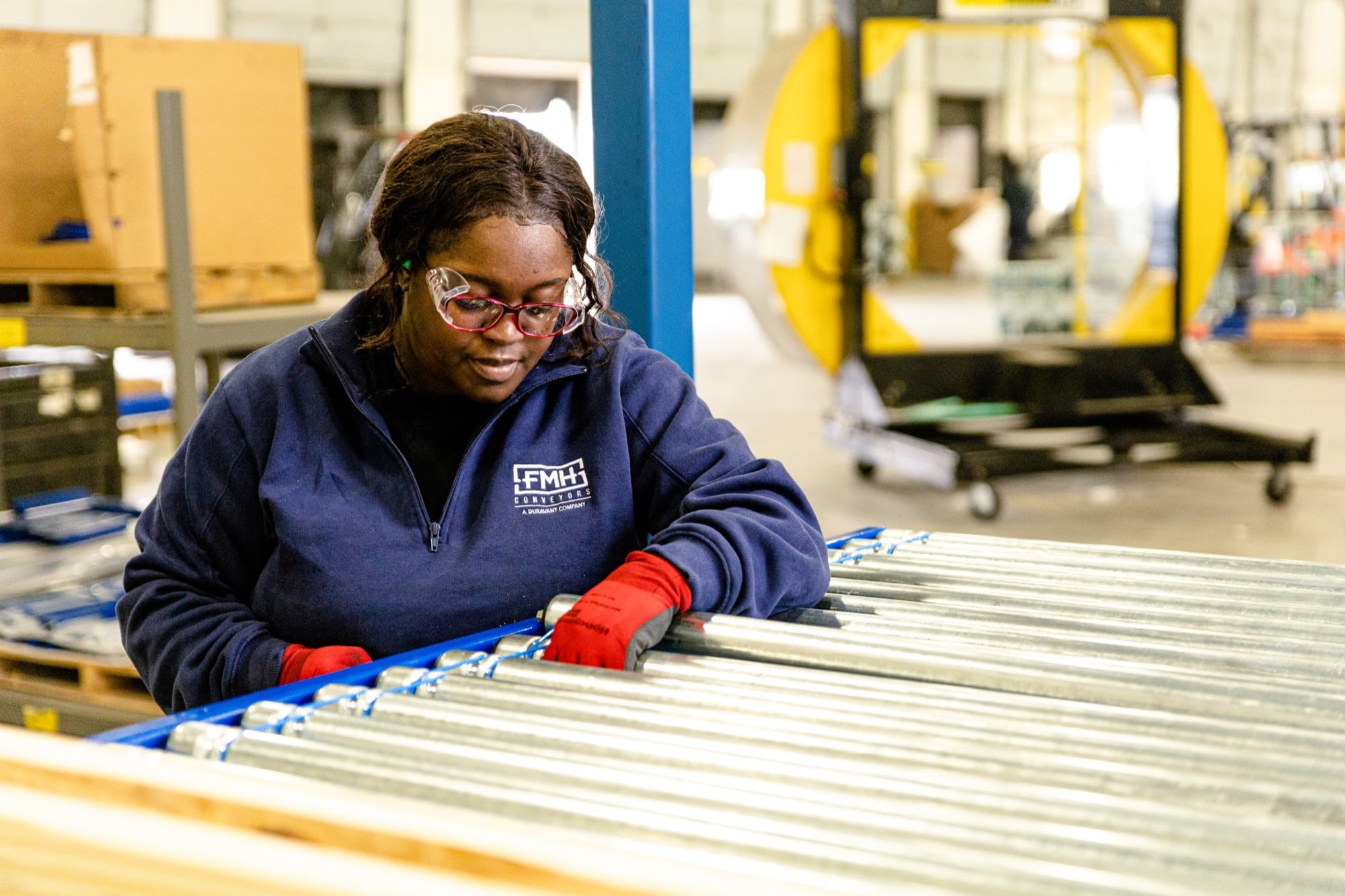 Originally from McGehee, Arkansas, Candace moved to Jonesboro in 2006 and enrolled in courses at Arkansas State University. In 2010, she started a family and now has two sons!
Candace began her FMH journey through a temporary agency.
She began in the power department, assembling FMH's BestFlex line of products. Through this position, she learned the concepts of wiring and the basics of conveyor products.
Candace was then transferred to the gravity department, where she learned how to assemble our NestaFlex line of products. This was a bit of an adjustment as the gravity line does not have electrical components and utilizes skate wheels rather than rollers.
Two years ago, Candace joined the FMH team full-time in the BestConnect department, assembling our rigid modular products. Within a few months, she was offered a Working Team Lead role.
In this role, she ensures that her department has the tools they need to succeed. In addition to training new team members, Candace works to motivate her team while ensuring they stay on schedule.
"It's important to reinforce to my team that everyone has the potential to grow in their role. When new team members start, it is easy to be intimidated or overwhelmed by the technical skill involved in this department. When I first started, the only tools I knew of were a hammer and screwdriver."
Additionally, Candace serves as a first responder. For this role, she must maintain her CPR certification and go through continuing education courses to ensure appropriate reactions in potentially dangerous situations.
Candace decided to join the FMH team full-time as she observed a consistently positive work environment. "Everyone is willing to give a helping hand when needed, it's like a big family," Watkins said.
Her favorite aspect of her job is making something out of nothing. Her team starts with raw materials and must learn to read blueprints to fulfill orders. They must understand electrical components to make sure that every element of the conveyor is communicating as one unit.
Her goals for FMH include continued training opportunities so that she can expand on her skillset.
When asked the most important thing Candace learned in the last few years, she said "If you want it, go get it."
Candace's positive attitude is contagious! She mentioned that although it is easy to become discouraged, a positive attitude goes a long way and any goal that you set in your mind is achievable!
"Something most people wouldn't know about me is how valuable I find yoga, therapy, and other activities geared toward improving mental health."
Candace described how it is easy to be happy and motivate people outwardly, but you never truly know what someone is going through. Spending time with and getting to know herself has allowed Candace to be able to encourage others.
When away from work, Candace enjoys spending time with her two sons. Aside from filling her Amazon cart, her sons love to play video games.
Candace's passion is traveling and seeing new things. Her favorite recent trip was to Orange Beach where they enjoyed the many seafood restaurants.
Thank you, Candace, for being part of our team!
---