Channel Partner Success: Mainway Handling Systems
24/05/2021
---
Mainway Handling Systems is a systems integrator with 33 years of experience. They are located in Ontario and excel in the design, supply, and installation of completely integrated, turnkey systems or partial projects.
As a result of the COVID-19 pandemic, many companies could not cross the border to complete projects and turned to Mainway for solutions. They were able to step in and handle installations, project management, and preventative maintenance for many companies.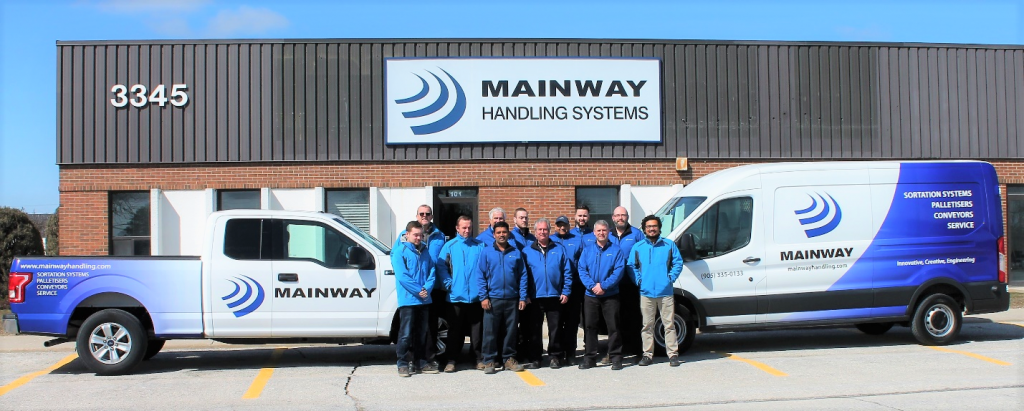 Mainway has been partnering with FMH Conveyors for 5+ years and continue to work with us because of our pre-engineered solutions, ease-of-use, and the strength of the FMH brand.
An FMH partnership allows Mainway flexibility and depth in their offerings by providing pre-engineered solutions such as BestFlex Flexible Powered Conveyors. These conveyors allows Mainway to remain competitive in a dense market by providing quotes faster and more efficiently especially in third-party logistics and warehousing.
Additionally, Rob Abramovitch, Senior Account Manager for Mainway, appreciates the ease of use offered through this partnership. "The data sheets and supporting documentation make it easy to determine what products would be best for our customers' applications."
Brand recognition has aided Rob in offering solutions for clients. "The longer a person has been in the industry, the easier it is to sell them an FMH product because of the reputation FMH has built around their products and the services they offer in conjunction," Abramovitch said.
Charlie Wood, Regional Sales Manager for Eastern U.S. and Canada for FMH, discussed the benefits for all stakeholders in a channel partnership. "The desire to understand customers' needs and provide solutions has made Mainway a great partner that I have enjoyed working with. This was perfectly executed recently with a large courier company in the province of Quebec."
Wood provided a lead to Mainway for a single flexible powered conveyor, and Abramovitch reached out to the courier company to better understand their operation. What started as a simple price check for one conveyor transformed into a multi-million-dollar sortation project including at least three FMH product lines.
By digging into the company's current operations and their business goals, Abramovitch was able to understand where the gaps were and offer a solution. Mainway formulated a plan that would allow the company to double their business without increasing labor needs, while only requiring a 10% increase in fleet size.
The project would double warehouse space and incorporates three MaxxReach telescopic conveyors, eight curved belt conveyors, and six BestFlex flexible powered conveyors. This improved structure will allow the company to expand same-day delivery and limit the time couriers spend loading.
On the success of the project, Rob said, "We helped provide a vision for the company that was not previously discovered."
This project is just one example of channel partner success. FMH enjoys working with our partners to serve many industries with custom solutions. Thank you to Mainway Handling Systems for continuing to trust our team!
---