Channel Partner Spotlight: Top Shelf Integrated Solutions
21/02/2022
---
Top Shelf Integrated Solutions specializes in material handling solutions for a variety of applications including manufacturing, distribution, and packaging. Headquartered in Columbus, Ohio, Top Shelf services customers all over the country.

The Top Shelf team offers a full-service experience for their customers including application analysis, design, installation, project management, as well as parts/service support.
As an integrator, the company values creating and maintaining partnerships with clients by providing top-level service.
Channel Partner Relationship:
Top Shelf and FMH's relationship began in 2018 when Tim Neroni, President and CEO saw a potential fit for a client project.
"I have worked with FMH for decades throughout my time in the material handling industry. I have come to understand the FMH product lines and their role in fluid loading and unloading. With FMH's industry background and our customers' varying applications, our companies are a good fit for each other as Top Shelf looks to expand our offerings," Tim said of the partnership.
Top Shelf has had success implementing many FMH products over the years. They see the most movement in our BestFlex family of products. BestFlex flexible powered conveyors reduce the manual manpower needed in loading and unloading applications when compared to standard gravity alternatives.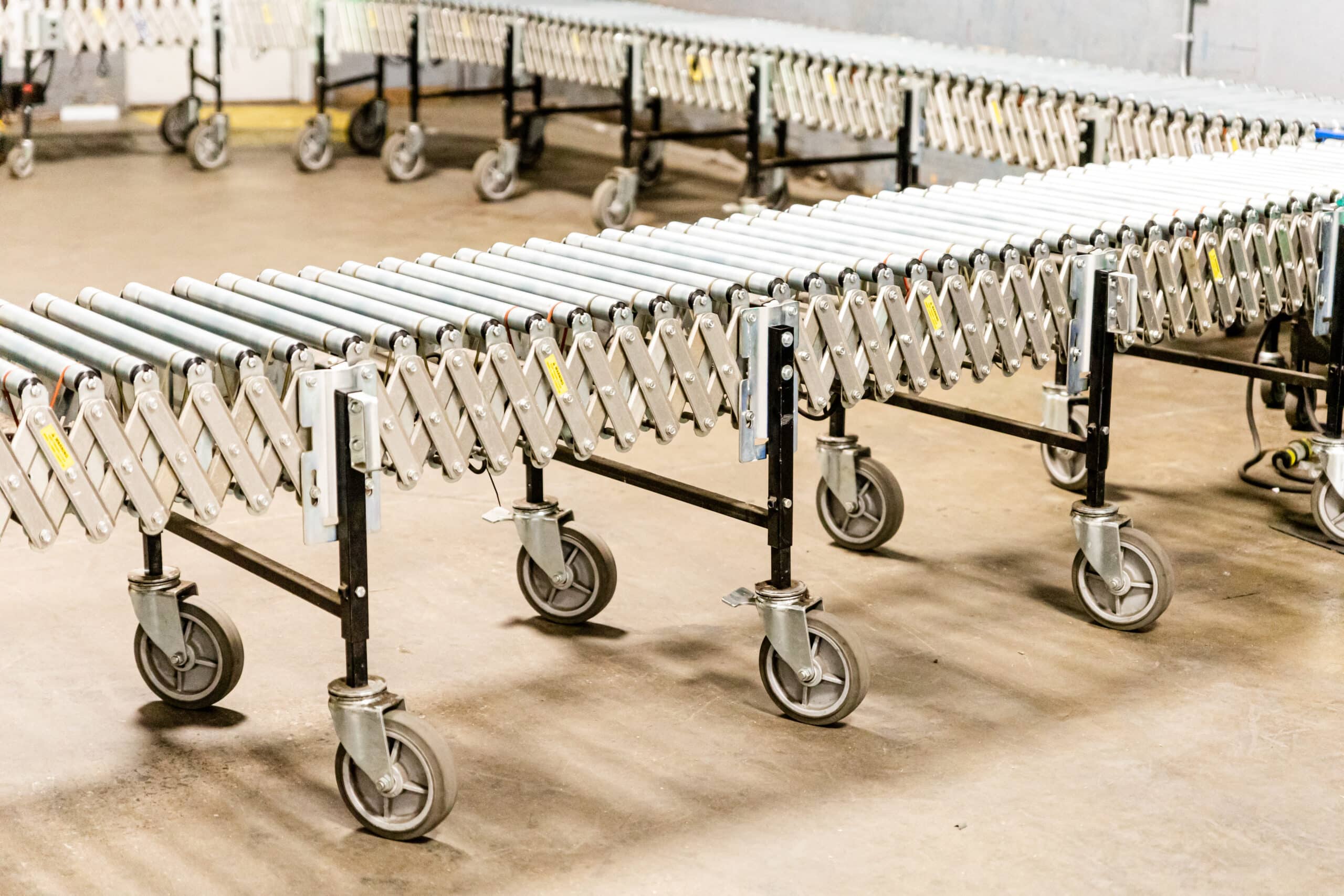 When customers are ready to implement increasingly automated solutions, Top Shelf is equipped to sell our other product lines, including MaxxReach telescopic conveyors.
Customer Success:
Recently, a construction material wholesaler reached out to Top Shelf to explore options that would boost productivity in their new facility.
This provided an opportunity for Top Shelf and FMH to work together to provide a custom solution.
Charlie Wood, FMH Regional Sales Manager for the Eastern US, met with the team at Top Shelf to determine the most appropriate solution for the end-user.
Manually unloading and storing heavy corrugated boxes required three workers and took 24 man-hours start to finish. The end-user was looking to reduce this labor requirement and boost productivity.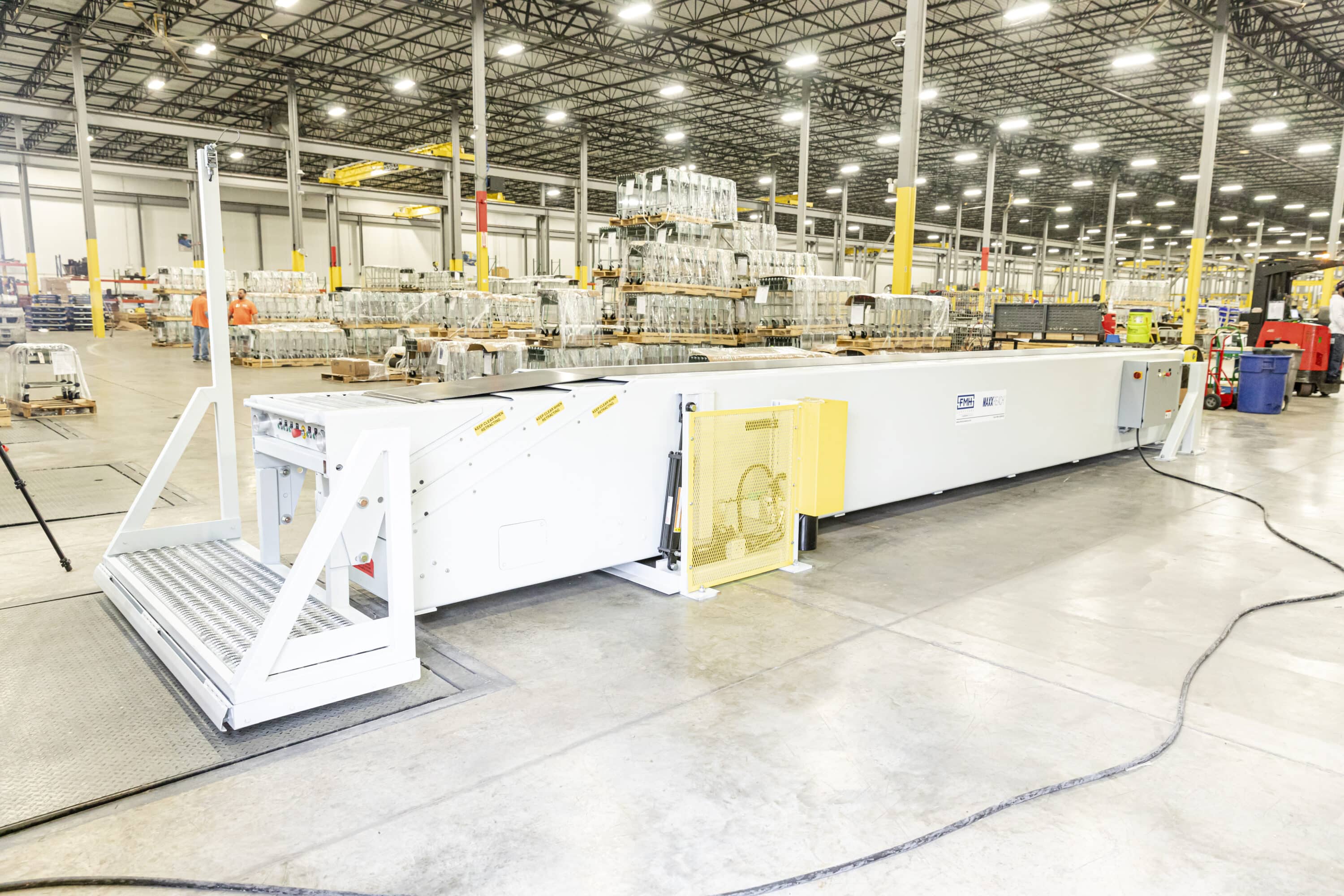 In 2021, a MaxxReach telescopic conveyor with hydraulic tilt and a man-rider platform was installed. This solution provided a 58% reduction in labor for a total annual savings of $73,000. Once implemented, the end-user was able to reduce the unloading process to 10 man-hours, a 14-hour reduction.
FMH Difference:
"FMH has such a broad product offering that we are able to provide the best fit for a variety of customer applications. In many projects, we can offer up to four solutions for the end-user to evaluate," Neroni said.
Working with Charlie and the FMH team has allowed Top Shelf to find the best solution for customers based on their priorities or constraints -- whether it be space, cost, or productivity.
"Charlie is always willing to jump in a car and meet with a customer at a moment's notice. That helps customers get off the ground much faster with projects," Neroni said.
A great example of Charlie and FMH's eagerness to help arose when Top Shelf was approached by a customer that had acquired a used MaxxReach telescopic conveyor.
The customer was looking to refurbish, use, and possibly resell the unit. To see if this would be feasible, Top Shelf scheduled a meeting with Charlie and FMH's SupportPro team.
"Our SupportPro team worked quickly with Top Shelf to determine what replacement parts were needed and serviced the unit to ensure that it was ready for potential buyers," Wood said of the project.
Once the unit was in working condition, Top Shelf's customer was able to utilize it for offloading trucks while concurrently marketing it to potential buyers in search of a used telescopic unit. This includes one potential buyer that is looking to demo the unit before purchasing several other new units for a distribution center.
Summary:
These are just a few examples of what channel partner success looks like with FMH!
As a part of FMH's channel partner network, distributors can expand their product offering while working alongside our team to provide the best fit for a variety of applications.
We enjoy working with our partners to serve many industries with custom solutions.
Thank you Top Shelf Integrated Solutions for continuing to trust our team and growing with us!
---