Mobile Loader – No Raised Loading Dock? No Problem!
10/02/2022
---
Safe & Efficient Vehicle Loading & Unloading With FMH Conveyors Mobile Loader
The Mobile Loader from FMH Conveyors makes the loading and unloading of smaller commercial vehicles such as vans safe, efficient, and easy. Designed for use in warehouses and other commercial premises without a raised loading dock, this innovative conveyor system comes equipped with a range of useful features.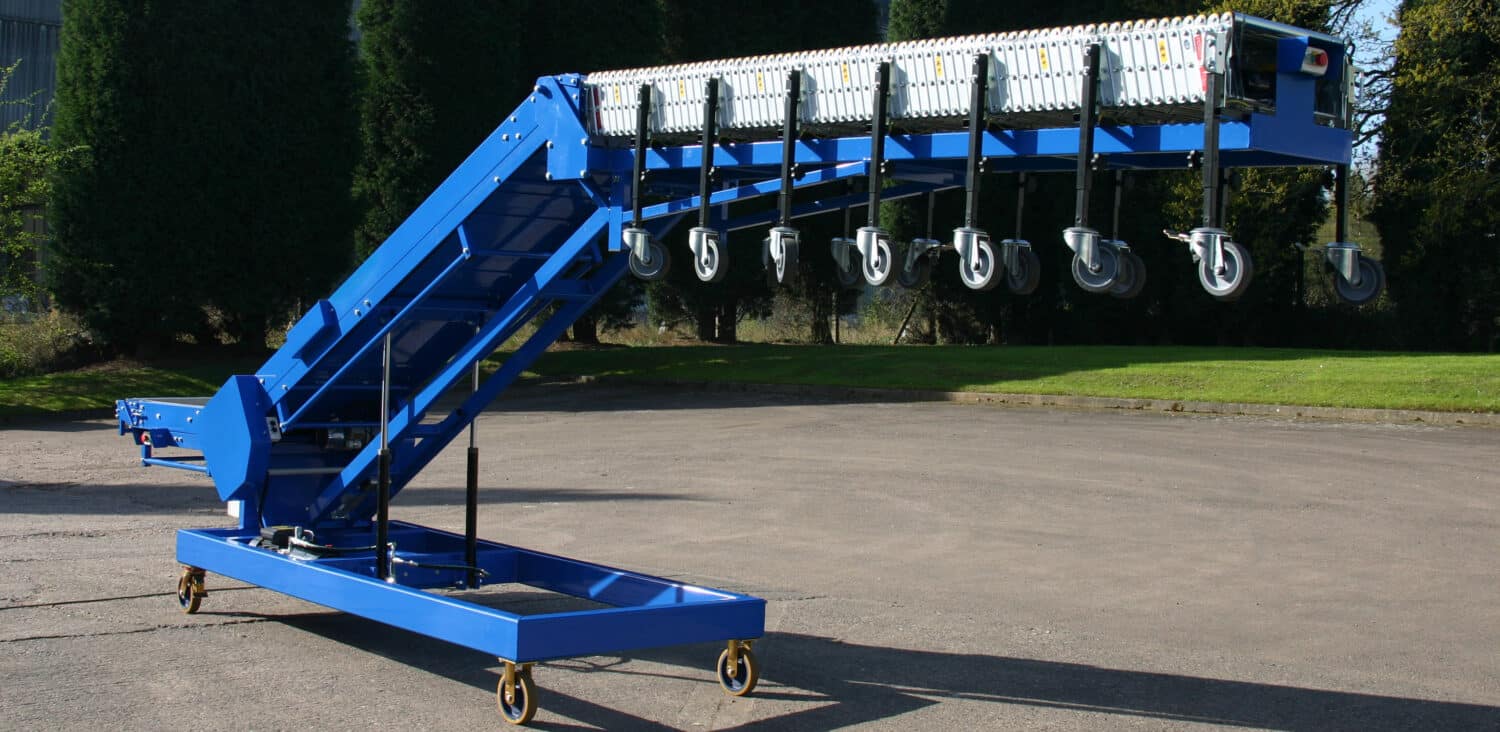 Safety First
The Mobile Loader was designed with safety at its forefront.
A fully guarded design ensures that all moving parts of the Mobile Loader are covered. This means that when the conveyor system is in use, entrapment and injury in any of its rotating parts is impossible. As well as being a safe solution for your employees, this can also reduce downtime – thereby increasing operational efficiency.
As well as this increase in safety being good for your business from a productivity perspective, it is also beneficial in terms of compliance with the regulation. The Manual Handling Operations Regulations 1992 (as amended) states in its third clear ranking measure for dealing with risks:
"Reduce the risk of injury so far as is reasonably practicable." – The Mobile Loader helps achieve this objective by reducing physical (human) carry time to an absolute minimum. This safeguards your employees, reduces injury, and lowers the risk of employee absenteeism.
These extensive safety features mean that the Mobile Loader can help immensely in your endeavour to make your workplace as safe and efficient as possible.
Vehicles can be efficiently loaded and unloaded with complete peace of mind.
Mobile & Durable
A robust supporting framework and durable, heavy-duty construction make the Mobile Loader one of the most reliable loaders available on the market today. With tough operating conditions in mind, this design can withstand even the most challenging of loading and unloading tasks with ease and efficiency.
As well as heavy-duty construction, the Mobile Loader (as the name suggests) is also a fully-mobile conveyor system. With robust 200mm castors, this durable loading/unloading solution can be deployed wherever you need it. When the work is completed, it can then be moved to where you need it next – making the Mobile Loader an incredibly nimble addition to your operation.
To ensure that emergency stops retain their long-term functionality, stop buttons are shrouded in fabricated steel covers so as to protect them when in use. This again means that the Mobile Loader is appropriate for application even in the toughest of loading and unloading conditions.
The Mobile Loader comes with a 24 months warranty as standard, which expresses our confidence in its durability and reliability.
Impressive Performance Options
Depending on your individual requirements, the Mobile Loader is available with either a powered or hand-operated hydraulic lift. Along with the extensive mobility of the Mobile Loader, this variable height means that the conveyor system is highly adaptable and can be altered to fit varying operational needs.
Moreover, the addition of electronic package stops, end lights, and brake motors can all be installed in order to make the Mobile Loader even more refined in its function when handling heavy or delicate packages.
The electronic package stop means that the conveyor system is able to detect when a package is at the end of the conveyor. This prevents precious packages and parcels from being damaged when in transit on the Mobile Loader. The solution also provides power-saving control which can increase operational efficiency.
The addition of brake motors means that heavier packages will be fixed in place when items are stopped on the incline belt. This prevention of free movement for heavier items has the potential to save money by reducing the amount of damage incurred when loading and unloading heavy packages.
The Mobile Loader can also be fitted with a halogen light at the end of the powered conveyor tongue. Speaking of power, the Mobile Loader is powered by a simple 240Vac plug connection (with 110Vac and 415Vac versions also available).
No Raised Loading Dock? No Problem!
The Mobile Loader is a perfect warehouse solution for operations without a raised loading dock. As previously discussed, its wide adaptability in terms of location and height means that the Mobile Loader can be a safe and efficient solution for use in industries such as:
Manufacturing & Packing
Material Handling
Distribution Centres
E-Commerce
Retail
Parcels & Postage
Third-Party Logistics
FMH Conveyors are also able to offer additional support services to help your Mobile Loader hit the ground running in your business. These services include:
Technical Support
Installation & Service
Preventive & Routine Maintenance
Application Support
Operator & Maintenance Training
To make the Mobile Loader conveyor system an efficient solution in your vehicle loading and unloading operations, please get in touch with us today and speak with a specialist sales advisor.
---