FMH Telescopics – Reach for Results, Not for Parcels.
27/01/2022
---
Throughout history, loading and unloading a vehicle has always been a highly manual operation. Even back in 1896 when the first diesel trucks revolutionised the distribution industry, goods were still being offloaded by hand. Not only was this a highly inefficient process, but before the days of manual handling regulations, a highly dangerous task too. Fast forward a few years, 110 years to be exact, and we reach the start of an important industry shift. FMH Conveyors manufactured and installed their first telescopic conveyor from the UK.

The introduction of the telescopic range to the FMH catalogue cannot be understated. The equipment gave our customers a powerful new tool for efficiently and safely unloading/loading their distribution network. The Telescopics' successes in the industry quickly made it a hugely important corner of our growing business. Now, one can be forgiven for not having heard of a Telescopic conveyor. These sleeping giants reside in the 'goods in'/ 'goods out' areas of the world's distribution warehouses - they are not a common public sight. Even if you have not heard of them though, you can bet that your latest online purchase travelled over one of them.
What is a Telescopic conveyor then? A Telescopic conveyor is an extendable material handling machine that will transport goods directly in or out of a trailer. Their telescopic action means they can go from 4.2 metres, right the way out to 29 metres in length! Often fed by an upstream system, a telescopic conveyor bridges the variable gap between a dispatch sort operation and the back of a trailer. Optimised belt speeds, flow control and a multitude of optional extras, meaning that a telescopic conveyor gives the customer a reliable, efficient, and safe method for product dispatch. At FMH, we have spent a huge amount of time honing our Telescopic range. Although all of our machines are tailor-made to the individual customer's requirements, we have 3 distinct areas to our portfolio – BestReach Gravity, BestReach & MaxxReach. Each of these machines and their individual characteristics, mean FMH have an answer to the industries fluid requirements.
BestReach Gravity is our most cost-effective model. Used throughout the world, this machine provides a safe and efficient way of loading a trailer. The conveyor combines a robust steel construction and heavy-duty rollers to give a reliable gravity flow from infeed to offload operator. These machines (like all of the Telescopic range) require no additional support once extended, they are self-supporting by nature. The conveyor's powered extend and retract functionality allows for efficient loose load applications and minimal reaching distance for the equipment operators.

MaxxReach is the Goliath of our catalogue. With the ability to reach further than any other model, the MaxxReach really lives up to its name. Functionally identical to the BestReach, MaxxReach is designed to handle what other machines cannot and on a much grander scale. The MaxxReach is used by the world's largest and most diverse distribution companies. Able to extend out to more than 24 metres, even the industries longest trailers can be efficiently and reliably loaded or unloaded. Manufactured to the same rigorous engineering tolerances, these conveyors are some of the most robust on the market. If your MaxxReach cannot reach something, you are likely pointing it at the wrong trailer.
It is common knowledge that the loading/unloading of trailers is a difficult arena to operate in. Material handling volumes are hard to control in today's environment and sometimes, you just do not know what will be inside the trailer when you open the doors. This can cause problems for most extendable conveyors designed for truck loading; they are simply not diverse enough to handle the industry's unknowns. At FMH, we believe we have solved these issues with our plethora of optional extras to upgrade and diversify your machine. Man-Rider platforms provide a stable and comfortable base from which the operator can transfer goods between the conveyor and the trailer's pick face. Hydraulic Tilt gives the ability to alter the outfeed height of the machine, dramatically improving operator ergonomics and loading/unloading efficiency. High-Level Chassis remove the requirement for loading off a dock. The machines chassis height is raised to suit a free-standing vehicle or container. If you require loading or unloading a trailer, we can tailor a specific telescopic solution for your business with a potential payback of only 13 weeks!
No vehicle unloading or loading exercise is the same, the machines to do the job cannot be either.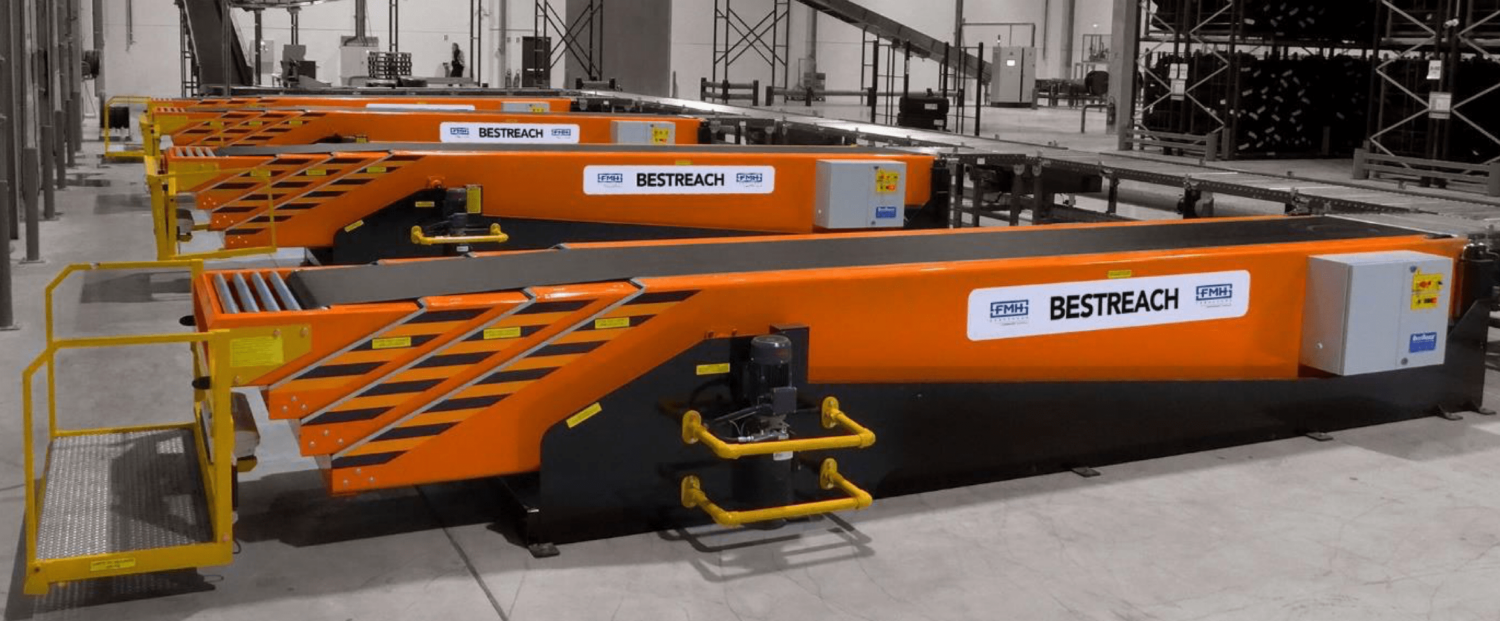 For enquiries into Telescopic Conveyors, or any of our other catalogue products, please do not hesitate to get in touch with our globally interacting Sales Team - CLICK HERE.
FMH would be delighted to help improve and resolve your material handling requirements. – SALESUK@FMHCONVEYORS.CO.UK
---