Make Your Warehouse Faster and Safer with BestReach.
18/02/2022
---

Modern logistics are a very complex network of connections between points in a supply chain. Any business that transports precious cargo will need warehouse solutions that mitigate the risk of an accident or delay. 
These solutions need to ensure the maximum efficiency in transportation, whilst also leveraging the latest and greatest advances in technology have to offer. From e-commerce to parcel delivery distribution centres, a smooth and safe system is one of the best investments to make.
If you need to increase the efficiency of your warehouse solutions, you need the best equipment available. There are many reasons why BestReach Telescopic Boom Conveyor Systems will keep your transports on schedule and improve your worker's conditions:
     1. Reducing Worker Fatigue
As any material handling or warehouse worker can attest, loading or unloading a large trailer by hand can be very inefficient in terms of energy, as the worker has to walk the whole length of the trailer multiple times. While the effects are negligible at first, they will undoubtedly take a toll as more trucks are loaded.
By the end of a shift, a worker manually loading or unloading vehicles will likely be exhausted, slowing down overall productivity. However, thanks to BestReach's telescopic industrial conveyor, the conveyor system will reach the very back of the trailer alongside the worker, allowing them to finish the process quicker without exerting unnecessary effort.
A tired worker can also become less observant, leading to accidents that cause injuries or damages to either packages or equipment. The BestReach boasts sturdy construction and emergency stop features to prevent cracks in case of accidents. This feature also benefits the workers, as the extra energy helps them remain fully aware of their surroundings.
     2. Ergonomic Improvements
When people think of ergonomics, they will often think about the physical shape of an item. However, there are other ways to improve the ergonomics of a process, and what might seem like a small change can be an excellent warehouse solution to improve working conditions.
The BestReach Telescopic Boom Conveyors can tilt at both ends of the belt, smoothing out the process as effectively as possible for your employees.
When it comes to large trailers bringing cargo to unload onto pallets, the process can become highly uncomfortable. The worker at the deep end of the trailer will have to continuously change stances as they reach packages at the top and bottom of each stack. 
Tilting the belt to avoid standing up or crouching down for each movement will allow the workers to avoid unnecessary effort and will reduce the chances of people accidentally losing balance while carrying a heavy box.
The workers loading the cargo for shipping onto pallets also benefit from tilt controls. They can easily adjust to empty pallets and smoothly tilt the belt as they fill up, so even if the workers fall off the pace, they will not accidentally knock the stack over with another item.
If the packages are of the appropriate shape and weight, the belt can be tilted, letting them slide off into position with minimal adjustments needed. With this slight change, the process is quicker when compared to manually picking them up and placing them on the pallet.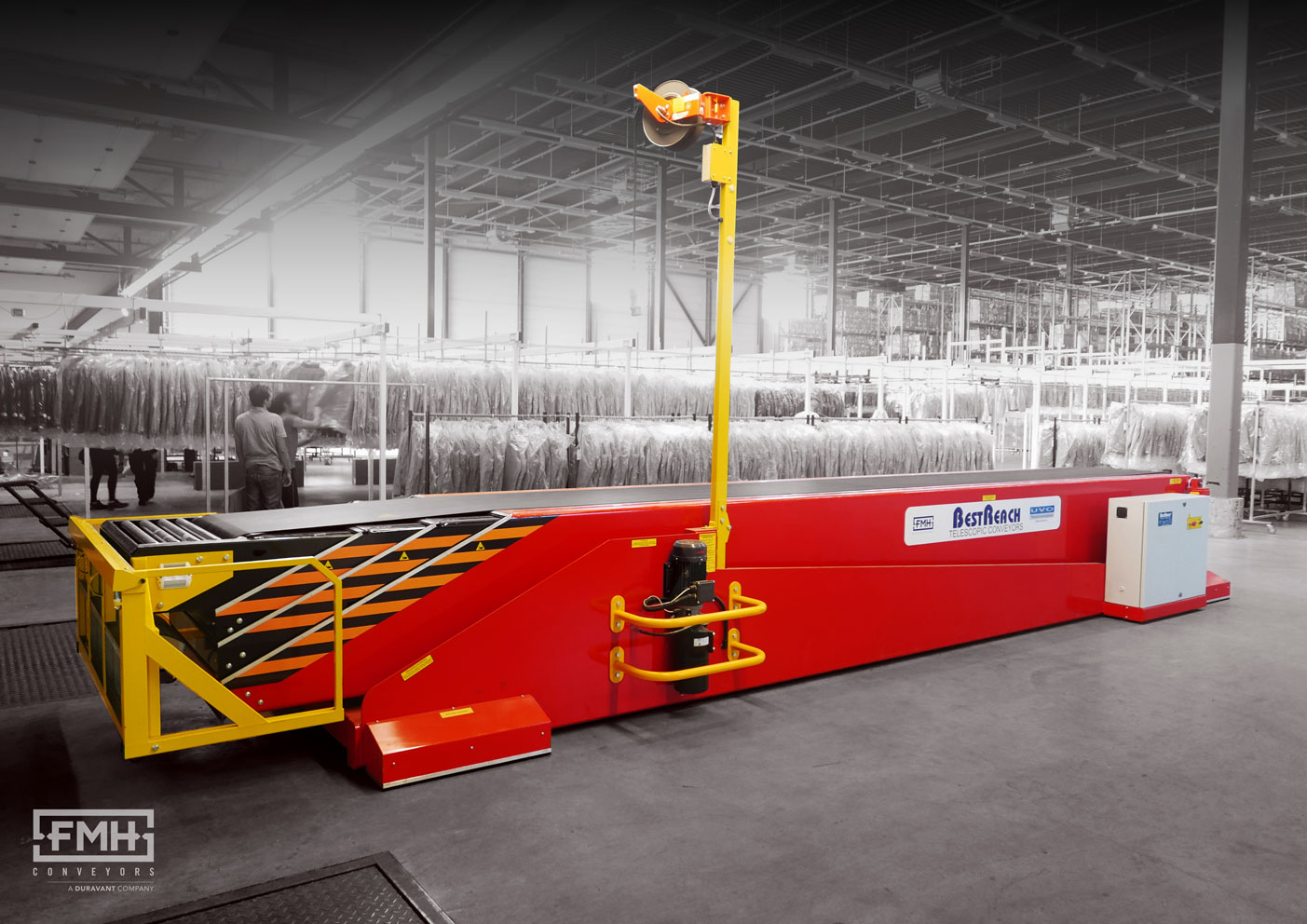 3. Flexibility in Function
Conveyor solutions can sometimes be perceived as practical but inflexible, unable to perform outside the intended configuration when material handling. That is not the case with the BestReach Telescopic Conveyor, as the ability to tilt, extend and move allows it to adapt itself to an enormous variety of conditions and requirements.
For instance, when dealing with air freight, you might be moving cargo or luggage to and from different aircraft types, either directly from a hangar or a loading truck. Unfortunately, some planes are not fully compatible with a regular industrial conveyor belt, but this problem is solved with BestReach.
The ability to move this system will also allow it to excel whenever an ad hoc material handling chain is needed, such as emergency relief or large orders with short notice. In cases like this, a single chain will often need at least four people to load cargo for shipping, whereas BestReach can allow for an operation of just two people, freeing up the workforce to speed up additional tasks.
     4. Reliability and Safety in All Conditions
Thanks to its mobility and size, BestReach is perfect for any situation where a reliable and sturdy warehouse solution is needed, but space is limited. 
The 10 mm thick covering will also ensure it can operate regardless of working conditions, and the structure of the loader ensures that no additional equipment is required to guarantee stability. 
The inclusion of brush strips fitted between all stages of the conveyor will keep any debris from entering and damaging the internals of the machinery while it retracts. For additional safety, each sprocket has steel guards mounted to minimise working hazards by the telescopic mechanisms.
In addition, the conveyor system features LED units at the front of the conveyor to ensure visibility even during night-time work, such as air freighting or dockside operations.
A Perfect Addition to All Situations
Any material handling business that sends or receives cargo for shipping will inevitably have to deal with different trucks and conditions, no matter how regulated they are. In addition, there will always be differing necessities every day, which means that investing in specialised but inflexible equipment might be counterproductive.
This kind of business needs a conveyor system that can adapt and change to help workers perform their tasks better, no matter what needs to be loaded or where. The BestReach conveyor system can quickly shift to different dock gates or positions to ensure clear visibility during nighttime operations and adapt efficiently to suit any vehicle loading or unloading requirements.
Better yet, as the BestReach industrial conveyor has the ability to relocate when needed, it can serve to extend any static conveyor belt already present, thus enhancing the reach of your prior investments.
The versatility granted by the BestReach Conveyor System can provide any warehouse with the perfect tool to ensure smooth, safe, and efficient operations in a practical and cost-effective package.
FMH: World-Class Conveyor Manufacturers
To make the BestReach Conveyor System an efficient warehouse solution in your vehicle loading and unloading operations, please get in touch with us today and speak with a specialist sales advisor.
---